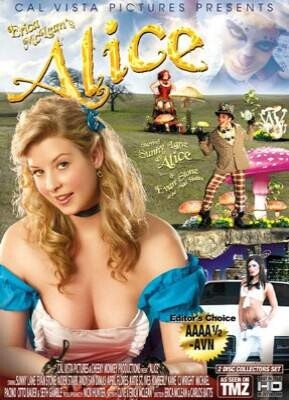 Grab your lubricant of choice and get ready for a wild, trippy ride as directors Erica McLean and Carlos Batts follow Alice down the "rabbit hole" in this visually engaging homage to the classic fantasy Alice in Wonderland.

The movie begins with a sexy White Rabbit (Andy San Dimas) beckoning Alice to join her for a night of partying at the Hole, a dance club that leads Alice (portrayed by Sunny Lane) into a world of sexual gratification. A music video for "Yeah I", the movie's hip hop title track by Dirt & Bank, is seamlessly integrated into the club sequence to surreal effect, fitting for the style of the movie and perhaps providing a glimpse of what could have been accomplished if porn's budgets could accommodate such visions. Not that Cal Vista skimped, the overall excellent production values of the entire movie — especially the costuming and the art direction — testify to that; it's just the directors did such a good job working with what they had that you can easily imagine what they could have accomplished with more.

Fans of Sunny should consider this a must see as Sunny plays the titular Alice, albeit a horny, kinky Alice in a role well suited to Sunny's girl-next-door charms. Sunny turns in three great boy/girl sex scenes, each with a different fantastic creature from the classic tale: Otto Bauer as the Caterpillar, Mikey Butdhers as the Cheshire Cat, and Evan Stone as the Mad Hatter, in a wild romp that begins on the table and ends up in the woods.
Synopsis:
Nineteen year old Alice sits with her sister, reading a strangely erotic book when there appears a White Rabbit. Alice follows the rabbit down a well and finds herself in Wonderland, a place of excitement and pleasure. The White Rabbit suggests that Alice comes with her to "The Hole" the most popular nightclub in Wonderland. "Along their way Alice encounters many curious beings including The Catepillar, The Cheshire Cat, The evil Queen and even stumbles into a Mad Hatter's tea party. Each encounter leads Alice closer to understanding the true wonder of Wonderland.