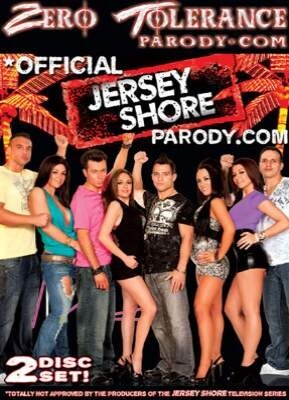 Big hair, bad attitudes, gold chains, tight dresses, silly accents, douche bags, guidos and guidettes are what make Jersey Shore must see TV. But let's face it, we watch it to see Snookie, Jolie and JWoww and fantasize what crazed, sexual animals they must be in the sack. Zero Tolerance totally remains true to the show by featuring virtually ever major and minor character, confessionals, opening credits, even Kristina Rose as Snooki getting punched out make the Official Jersey Shore Parody hard to tell apart from the original series.

After the cast arrives, everybody starts hooking up. Lexi Love's JWoww is convinced anal ain't cheating so she takes Mike Butders's cock up her ass to get her freak on. Annmarie Rios' Jolie, like the real life Jolie, faces eviction if she doesn't show up for work, but manages to suck off her boss, Mick Blue to convince her to stay.

Wonder if the real life Jolie ever did that. Snookie wants to do everyone but nobody wants to do her so she runs to mom Lisa Ann, who tells her to be more aggressive. She does when James Dean's Pauly D and Anthony Rosano's Ronnie show up to bang both mother and daughter. A must see group sex session ensues, one we would like to see the real life Jersey Shore girls take part in. Maybe the best parody of the year!
Synopsis:
What happens when some of today's biggest stars of porn get down and dirty Jersey style? An all out 2-Disc porn-tastic, parody masterpiece of epic proportions. Watch as the characters that you've come to love and loathe get down and dirty and show you what it's really like to be a Jersey Whore.