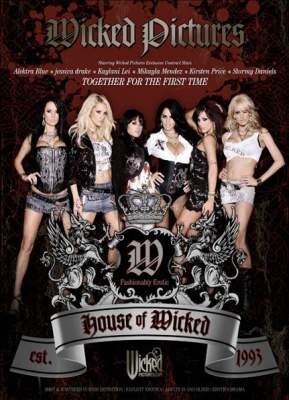 Ever wonder what would happen if MTV-style flash-edited clothing ads went hardcore? Director Brad Armstrong and the Wicked contract performers have.

Schoolgirl Kirsten Price, for example, poses prettily in a schoolgirl uniform with Kris Slater and Alan Stafford in a moodily lit classroom. Then the three take off the uniforms and start doing things that can get them expelled. There's something very sexy about a girl wearing a tie — and nothing else.

Jessica Drake, in sequined bustier and panties, forms the centerpiece of attention for Johnny Castle, Marcus London and Rocco Reed. Drake's panties come off pretty fast. Deep Threat rides a motorcycle, then Keylani Lei. Alektra Blue goes four-wheel with skateboarders Tommy Gunn and Barrett Blade; Stormy Daniels goes all Lone Star State in boots and cowboy hat with Danny Mountain; and Mikayla Mendez goes from disc jockey to dick jockey in a smoky club with Derrick Pierce.

Grand finale is a five-girl scene (minus Stormy) that starts with flashbacks from the previous scenes and ends with all five still grabbing each other as the image recedes into the credits. Cleverly, much of the clothing worn (and removed) throughout has prominent Wicked labeling, maintaining the fashion premise.

Director Armstrong started as a scenic designer, and he fills the screen here with well-crafted images, cleverly reusing the same white-brick studio. Kudos to Francois Clousot for the masterful photography, in fashionably smoky sets with moving camera and Dutch angles. And congratulations to Armstrong and editor James for bringing in all seven scenes at a tidy 90 minutes.
Synopsis:
House Of Wicked, an amazing combination of beauty, style, and raw sexual energy. These ravishing beauties slide into their own brand of Wicked Couture, and work it for the cameras like no one else can. The Wicked Girls to do what they do best, and they've never looked more amazing doing it.