A desolate junkyard landscape. A light from the sky. A gooey alien substance that threatens to destroy everything it touches.
The stuff of nightmares. Quite literally.
When I was a kid, my dad took us to France where he was going to lecture and he brought only a few DVDs to show in class. I became obsessed with Hitchcock's 'Strangers on a Train.' I watched that over and over. It's still my favorite film.
"The trailer for the remake of 'The Blob' really traumatized me as a kid," 2018 XBIZ Director of the Year Bree Mills explains, and you can catch a glimpse of those childhood fears crack through her usual nonchalance and cool demeanor.
"Whenever I went to the video store and noticed the 'Horror' aisle, for a long time I would go around it because I knew it was there, waiting for me," she adds.
We are standing next to a vintage table in a cabinet of wonders-like studio/warehouse, filled with rustic antiques that the co-owner, adult performer Casey Calvert, has gathered from all over to serve as set pieces. Mills and her makeup artist are elbow deep in vats of an uncanny gunk they're in the process of mixing.
"I went into a YouTube rabbit hole of 'how to make slime' videos," says Mills. "Apparently, there is a big slime subculture, people who grew up watching Nickelodeon."
"We need more activator," says the makeup artist, her hand dripping with a ropey white substance somewhere between semen and glue.
Mills pours more liquid from a large bleach-like container labeled "Magic City" into the vat. "What I learned on YouTube is that you need two ingredients to make the slime: the slime goo and the slime activator," she reveals.
The makeup artist adds, "One makes it thicker and the other makes it more liquid." With a guerrilla-filmmaking style (as is the case with most porn), she now doubles as FX supervisor. "Should we go thinner, Bree?"
"Yeah, we are going to wrap Seth and Adriana in a ton of Saran wrap and then we're going to dump all of this slime on them," she says. "That's how we find them when they wake up in the alien ship that the team is building over there." Mills points to the center of the warehouse, where her co-director Craven Moorehead, DP Matt "Matty" Holder and the rest of the crew are arranging lights around a dark platform.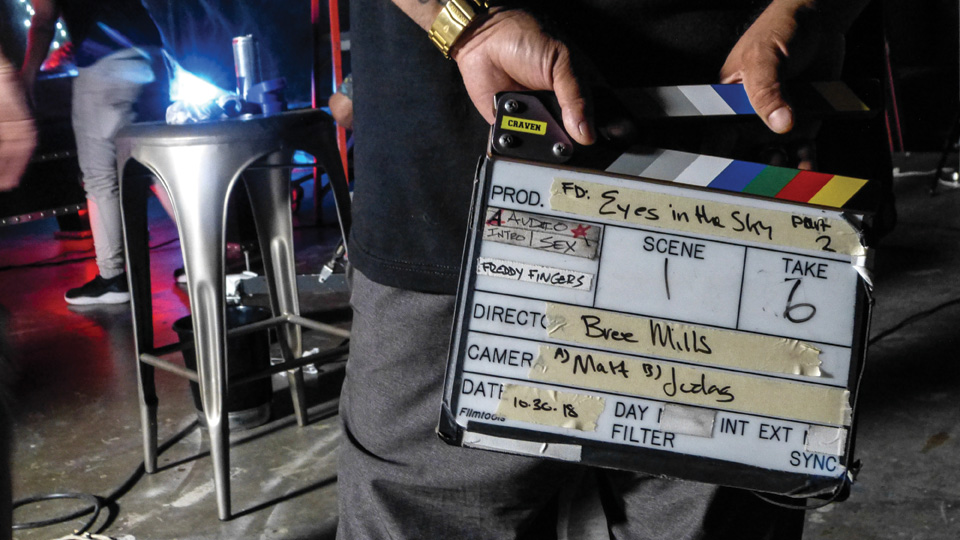 Not far from this flurry of activity, Seth Gamble and Adriana Chechik chat amiably on cushy old velvet couches as they effortlessly engage in every successful porn performer's main unpaid side gig these days: constantly feeding their social media accounts with BTS shots, announcements and promotion of their various content streams.
They're both really friendly and bring a positive vibe to set, cheerfully unbothered by the imminent Saran-wrapping and slime-drenching they're about to receive.
It's the second and last day of production on "Eyes in the Sky," the finale of PureTaboo.com's adult sci-fi series "Future Darkly," and the Gamma Pictures team is hard at work trying to deliver legitimate sci-fi thrills on an adult movie budget.
While Mills characterizes "Future Darkly" episodes as porn's "Black Mirror," alluding to the popular sci-fi dystopian series on Netflix, what can be seen on set is one of the most classic forms of filmcraft that has existed since the dawn of the medium, or even vaudeville: a heartwarming and creative gang of misfits trying to create wonder and magic out of a few props and light and sound tricks. It harkens back to Roger Corman and Rod Serling, heck, even all the way back to Georges Meliès.
"Seeing you running around so enthusiastically, carrying the homemade slime, just reminded me of Ed Wood," I tell Mills.
"Actually, I am Ed Wood," she replies, laughing.
"Future Darkly: Eye in the Sky" is an original abduction story written by Mills and described in its log line as "couple taken by aliens and forced to star in live sex shows." The atmosphere is inspired by the 1988 version of "The Blob" (itself a remake of a cult 1958 B-movie starring a very young Steve McQueen) and the 1993 abduction docudrama "Fire in the Sky."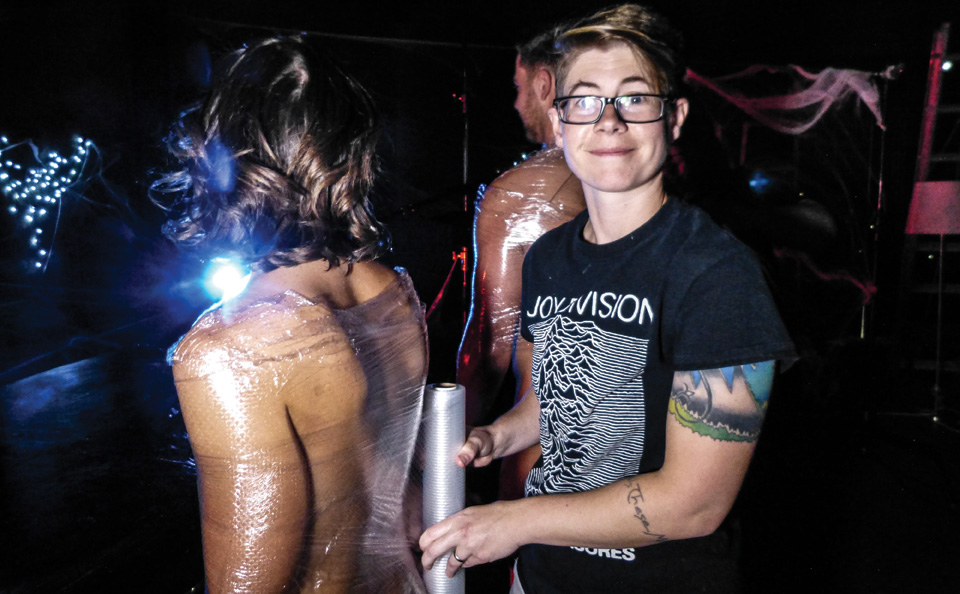 "'Future Darkly' gives me the opportunity to pay homage to the sci-fi I like," explains Mills. Though the first episode, "Future Darkly: Artifamily" (starring Tommy Pistol and Jill Kassidy) seems to be a straightforward porn riff on "Be Right Back" (the "Black Mirror" episode about a woman's relationship with a synthetic recreation of her dead boyfriend), Mills' tributes and references within it are much farther ranging.
I reminisced with her about the beginning, which replicates Paul Verhoeven's original "Robocop," and Mills is quick to add, "Yes, but there's also a lot of Kubrick in shots and music, and a take on Marvel's idea of a powerful institute, very 'Iron Man'-ish."
But even if Mills adopts some aspects of Marvel's approach, the "Future Darkly" series offers a brainier alternative to the main way porn currently does sci-fi, in the form of superhero parodies.
"Each episode in this series allows me to have a lot of fun as a filmmaker," Mills explains. "'Future Darkly: Don't Panic' is my take on a post-apocalyptic story that might actually happen. It's influenced by things like 'The Road,' but also by theories I've researched about how the world is possibly going to end. 'Future Darkly: Love Hotel' is a meditation on sex work set in a cybernetic future. [Spielberg and Kubrick's] 'A.I.' was a reference, and also 'Blade Runner.'"
"Sounds like if you weren't working in adult films," I point out, "you'd be making these kinds of movies."
"Probably," says Mills. "When I was a kid, my dad took us to France where he was going to lecture and he brought only a few DVDs to show in class. I became obsessed with Hitchcock's 'Strangers on a Train.' I watched that over and over. It's still my favorite film." Like Hitchcock, Mills has started making blink-and-you-miss-it cameos in her own movies.
It helps that as the main creative force behind Gamma Films, Mills holds as much auteurial power right now in the adult industry as Hitchcock did in his (and Classic Hollywood's) prime. And the industry is recognizing her vision with multiple awards and a growing reputation for running efficient sets that consistently produce quality content.
Her philosophy of performance, represented by the hashtag she started — #PowerOfActing — and a method of rehearsal and improvisation that she has dubbed "Porn Script Theatre," has impressed many of the top performers who sometimes have to suffer through subpar direction and scenarios, or chaotic sets.
On "Eye in the Sky," Mills is using her growing clout and reputation to return to that primal childhood fear aroused by "The Blob." The protagonist of Mills' story is Alex (Adriana Chechik), a 21-year-old college student who sets off on a romantic trip to a cabin in woods with her boyfriend Derek (Seth Gamble). As they stop somewhere remote along the way for "a little road head," they're interrupted by a red light in the sky and, when Derek leaves Alex to investigate its origin, he discovers a nest of slimy orbs. As they get close to try to figure out what these egg-like objects are, Alex and Derek get abducted into an alien ship.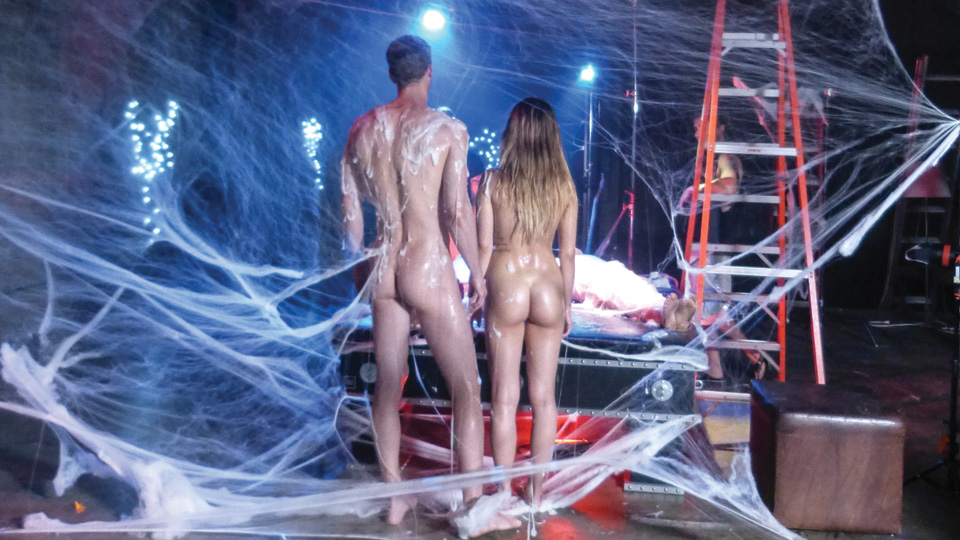 They wake up on a platform wrapped in slimy cocoons, where they encounter a man (Ryan Mclane) and a woman (Kristen Scott) who have been abducted before them and have been made to perform sex acts for the aliens' entertainment. Learning that the aliens' game seems to have some mysterious rules related to the men's orgasms, Alex tries to come up with an escape plan by attempting to manipulate the sexual performances.
"This a PureTaboo.com series," explains Mills, "and the taboo here is 'mind control,' which is a tricky one." What she means is that currently the limits to what the industry can and cannot portray are set by the credit card processing companies, who have very strict rules surrounding the representation of consent.
"When it comes to consent," Mills says, "there must be, according to their rules, 'clear verbal consent before any sexual activity.' This scares a lot of producers away from tackling taboo material. PureTaboo.com stands out because we take the time to make our protagonists work through the coercion. They have to decide to agree. We are always aware of fulfilling their compliance points."
Some no-nos about consent concern protagonists being hypnotized, intoxicated or forced. But much like in the 1940s and 1950s when mainstream Hollywood found ways to work around the censorship of the production code, Mills has thought things through.
"The taboo here is 'not being in control,'" Mills points out. "So there's no point in the dialogue explicitly saying the humans are going against their will. It's inferred that they are. We work within that loophole. The alien speaks in clicks. You can't prove he's telling them to do things against their will. And Alex's plan in order to escape gives her agency. It's a plot to outsmart the aliens. The fact that the story is pure fantasy also helps: the coercing force is not human. To a degree you can get away with a bit more when it's rooted in fantasy and not reality."
The first day on set starts at a suburban home, where Chechik is seen packing for her trip (including a copy of Joanna Angel's new book, "Night Shift"). It's a few days before Halloween and the home borrowed for this non-sex scene is full of festive decorations. We soon, however, have to leave these cozy, orange-and-black Hallmark banner surroundings for a rather grimmer version of Halloween.
"Which creepy wooden area are we shooting at today?" asks the makeup-artist, who has seen it all.
Originally, the plan was to deploy guerrilla filmmaking for the abduction scene in an actual wooded area. However, Mills and Moorehead decide to rent a (slightly) more controlled set, to which I traveled via GPS up in the remote hills north of Los Angeles. The place is tricky to find, but the locals are clearly used to T.V. and film shoots, since I recognize plenty of trailer park and swamp scene backdrops often seen on prestigious cable shows.
The reason I mention "the locals" is that the GPS takes me to the middle of nowhere and then stops working. There's no cellphone reception. The shoot itself for "Eye in the Sky" starts resembling the beginning of a great many horror and sci-fi movies. We are definitely in "Blair Witch Project" land, mixed with a healthy dollop of "Breaking Bad." The stony Frank N. Furter mansion is nowhere to be found, among derelict vehicles, dubious metalwork and roaming dogs who might be pets or not.
Chechik has bravely driven ahead and she's waiting in the car. The makeup artist is also there, also inside the car. There are very aggressive mosquitoes all around, yellow police "caution" tapes ribboning some of the trees (whether from a related production or real-life crime was unclear) and several trailers with smoke coming out of little chimneys. The locals are friendly, from a distance.
"We shot here before," says Moorehead when he arrives down a secluded dirt road with the other two crew members who are supposed to build the alien nest and hang the red otherworldly light. The actual shoot is going to take place at sundown and after dark.
I start thinking about "movie ranches," and especially the Spahn Ranch, where in the late 1960s cowboy B-movies were being shot alongside the Manson Family encampment. Is it possible that we are in a "meth farm," is a "meth farm" a thing and are the mosquitos toxic?
"This is where we shot Joanna Angel's movie. 'Trailer Park' something," says a member of the crew.
"Trailer Park Taboo?" Moorehead guesses (correctly).
"Yeah, the tweakers come out after dark. One looked like a zombie. They might have shot 'Walking Dead' here too," somebody nervously laughs, as a couple of locals wave at us from a trailer.
"Zombies, tweakers," I say. "What a place." We still have no cell phone signal and it's getting darker.
Moorehead and Gamma crew veteran Manny Bucks tear down some of the police tape and find a good location for the alien egg nest. "Oops," one of them remarks, laughing.
"I swear there was a delivery of chemicals last time we were here," recalls the makeup artist.
"Ouch!" Chechik screams, after having been bitten by an almost invisible mosquito that leaves a large bump on her arm. "I'm more worried about mosquitos than zombies," she says, as she returns to the car to wait for sundown.
"I swore to myself I never would come back to this location," says someone in the background, matter-of-factly.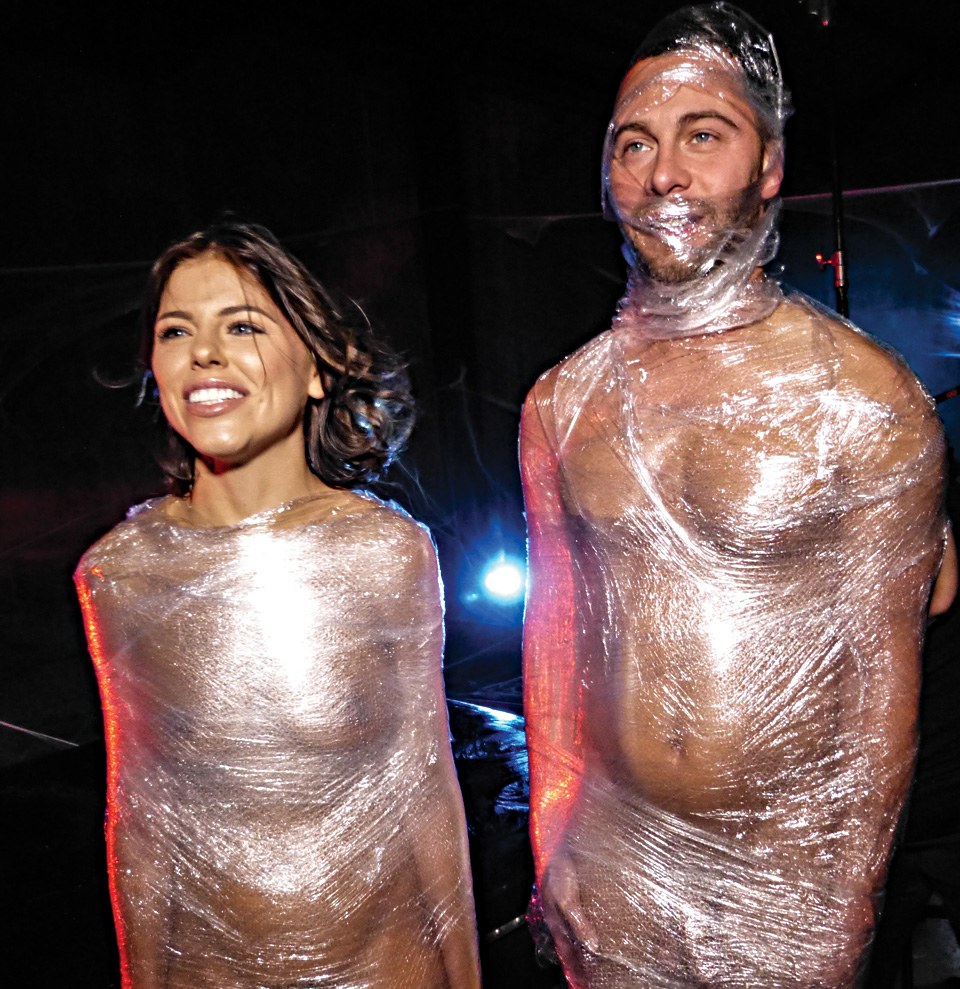 The wait is long and tense, though Chechik and Gamble are pros and know that friendly banter makes the production day go faster. Mills couldn't have cast any better to convey that 1980s-via-the-1950s all-American wholesomeness than these two. Chechik was asked to bring her own costume, an outfit "that should look very vanilla/civilian and not at all like a porn outfit." Her preppy yellow shirt, like most of Chechik's professional moves, is just — perfect.
Chechik amuses us with stories about her days in "Christian cheerleading camp," where she said they were to wear "nothing too revealing," and then "they made you practice all fucking day, and at night they would tell us 'You ... are ... all ... going ... to ... Hell ... for everything we did during the day." She also recommends quality movies she has recently gotten into like "A Lonely Place to Die" and "The Handmaiden." Gamble tells us about his hip-hop, which seems to be his true passion (he performs as "Gamble," one word).
Now, it's almost sunset, when they have to begin filming the car scenes. The woods become eerily silent and literally chilly in a matter of seconds.
"They're starting to come out," says the makeup artist. "They hunt in twos."
"The mosquitos or the tweakers?" I joke, shivering. Nobody answers.
A few days later we are at the warehouse ready for the Saran-wrapping of the stars to begin. Chechik and Gamble get naked in an instant and the crew and Mills take turns making them spin while several rolls of plastic cling wrap squish every area of their body and hair. Everybody is in really good spirits, considering, and the actors are laughing through the whole ordeal, while they ask the crew to grab their phones and live Instagram the madness.
Then, the goo is applied and they're both lifted (they cannot move) and placed on the platform. Kristen Scott and Ryan Mclane get naked and crouch around the platform. Layers of a spider-web-like fabric is applied to the set and the cocooned performers. Matty Holder and Craven Moorehead turn off the overheads and flicker up the lights they've expertly arranged, and suddenly we are all transported, even on this tighter budget, into the alien environment of Bree Mills' nightmares.
I can see on the monitor Chechik's character Alex, in an extreme close-up, waking from her slumber and realizing she is trapped in this eldritch space. She's astonishingly good as a B-movie heroine, perfect really, and we are not even discussing the healthy, exuberant approach to extreme sexuality that has made her a world-famous star ("I mean, how do I top triple anal!" she had told me right before being wrapped, to which Gamble added, "Adriana doesn't raise the bar, she smashes the bar!").
But here, she's in the alien ship next to Gamble, who also portrays a spot-on sci-fi-movie cleancut boyfriend. They both lay there, powerless, as McLane prepares to robotically mount a compliant Scott, following the elusive clicking commands of their new overlords.
"Aaaaand … action," says Mills, crouched over the monitor. For a moment, I can discern a tiny Ed Wood-ian smile over what she has wrought.