Jock Auto-Squeezing and Vibrating Male Masturbator
Curve Toys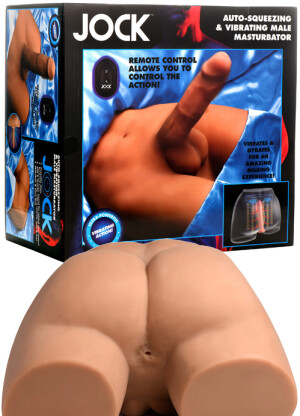 This is so fucking good, I had to have a cigarette before I used it. My cock got hard the second I took it out of the box and didn't know if I wanted to plant my asshole on the hard cock or stick my boner between its tight cheeks. I hate having to decide because I love doing both. When I sat on the realistic cock, it gyrated inside my hungry ass as I turned up the vibration with the remote control (nice because didn't have to fool with any other buttons). I made it spin and grind, like a good fucking that I like to get from a cock. I was almost gonna cum, but I hopped off just in time to keep my hard on, then plunged it deep inside its realistic ass. And then it milked my hard cock with ten speeds of vibration, taking my cock like no real guy ever has. I dumped a huge amount of jizz inside and almost passed out. I ended up having that cigarette and enjoying every inhale. Just like what it did to my cock.

For more information, contact Curve Toys:
Manufacturer Description:
Jock Did it again! This vibrating and squeezing male masturbator toy is designed with your pleasure in mind! The soft, stretchy TPE is completely body safe, phthalate-free and latex free so you can play with it knowing you only have quality materials in and against your body. Designed with a realistic look and feel, enjoy having access to both a heavy shaft and a penetrable backside! The dildo is poseable so you can bend and curve it to suit what shape suits you best!

On top of that, it has 10 powerful vibration modes that rumble inside you as you ride! Flip it over and enjoy the backside and rear entry, too! The anal canal is textured for your pleasure and has rows of rotating beads inside that squeeze and massage you when the canal is penetrated. Use the battery operated remote to control both the 10 vibrating and 10 squeezing modes from up to 16 feet away! This masturbator comes with a vibrating bullet that you can place inside to enhance your experience while you penetrate this masturbator's hole, and a warming wand to get it hot and ready for you! After you've completely satisfied yourself, use the cleaning kit included.

Bring out the masturbator and place it on a bed or couch. Grab your water-based lube and place it nearby so it's there when you need it. Turn on the remote so it pairs with the masturbator, then let your fantasy begin! You've covered the rest of his imaginary body with blankets and you're just focused on that heavy, large dong. You curve it up so it's ready and erect, then lube up and begin to slide on top. The vibrations rumble inside you and you feel yourself opening and responding to the soft skin and firm shaft of the dildo. It's hitting all the right spots and you put a hand right above the shaft on the belly and begin to ride, bouncing up and down, sliding every inch of that shaft deeper and deeper. Then it's your turn. You flip him over and put some lube on your shaft again. You remove the warming wand that's been heating it up for you, slip in the vibrating bullet, and slip your rod inside. You feel the buzzing vibrations on the head of your shaft and get even harder. As the squeezing modes start to massage your shaft, you find it harder and harder to keep from spilling your seed out into this textured, tantalizingly tight hole!

Curve Toys is known for their proprietary formulas used to create the best dildos and adult toys in the world. They manufacture their adult replica products with only body-friendly, phthalate-free, and top-grade materials. All products are inspected for superior functionality so that they represent the value, quality, and innovation from the factory to the bedroom. Staffed by experts with over 60 cumulative years in the adult manufacturing industry, Curve Toys is the perfect combination of passion, creativity and experience; in short, we know pleasure.

Copyright © 2023 Adnet Media. All Rights Reserved. XBIZ is a trademark of Adnet Media.
Reproduction in whole or in part in any form or medium without express written permission is prohibited.