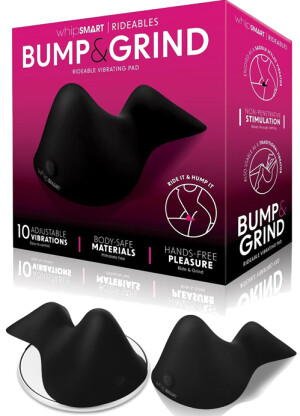 Okay, I'll admit it. Sometimes, I'm both tired and horny at the same time. What to do? Simply sit and grind on this clever, external pleasure humper, sipping wine in one hand, while reading a book of erotica in the other, as I subtly get off without even taking my jammies off. This rideable vibrating pad features two distinct pleasure humps, letting me zero in on my clitoris or I can twirl it around to satisfy my entire vulva. And let's not forget to tease my perineum, so that hot spot doesn't feel left out! Best of all, I can be lazy and use it through my jammies or panties, for a pleasurable grind anytime. Now about that wine…

For more information, contact XGen Products:
Manufacturer Description:
Enjoy non-penetrative clitoral, vaginal & perineal stimulation with Whipsmart Bump & Grind rideable vibrating pad. Ideal for anyone that gets off on humping, this saddle-styled vibrator is fully accustomed to fit your sensual needs, with stronger vibrations on harder surfaces and gentle vibrations on softer surfaces, and two humps for double the pleasure. The Whipsmart Bump & Grind also works perfectly as a traditional vibrator and through clothing. Convenient charging with the included wireless USB charging pad.

Copyright © 2023 Adnet Media. All Rights Reserved. XBIZ is a trademark of Adnet Media.
Reproduction in whole or in part in any form or medium without express written permission is prohibited.