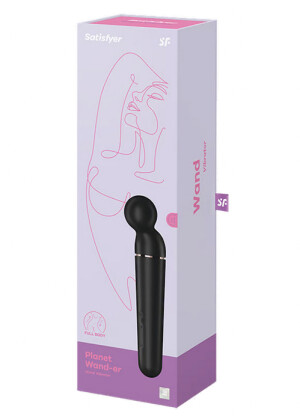 Thick and mighty, this git-'er-done sturdy wand massager will give a workout to both your body and your upper arm. Seriously heavy and heavy duty, with a fixed, pivoted head and solid handle that fills your palm, it's different from the typical wand on the market. With the slightly smaller than a tennis-ball-sized head, the angle lets you work it onto and into anywhere that needs firm, extra special massaging, including tight necks and sore backs. It offers over 60 combinations of speed and function, all available on the easy-to-access buttons on the handle. I actually liked the extra weight of it. It kind of made me feel that both my arms and my groin were getting a workout, and did it feel great when I let it slide around my upper thighs! It was like getting a deep Swedish massage without having to pay for that extra special treatment. Nice!

For more information, contact Satisfyer:
Manufacturer Description:
The Satisfyer Planet Wand-er is an impressive massager that has everything you need for stimulating full body massages and intense clitoral stimulation. Are you ready to wander your body like an unexplored planet?

Copyright © 2023 Adnet Media. All Rights Reserved. XBIZ is a trademark of Adnet Media.
Reproduction in whole or in part in any form or medium without express written permission is prohibited.