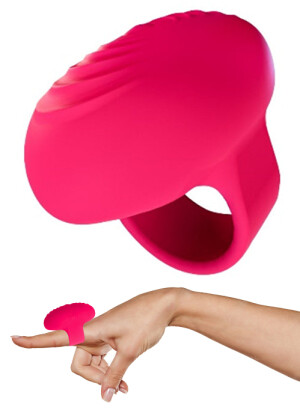 You know, everyone thinks my favorite toys are the ones that wiggle and squiggle, thrust and spin. But lemme tell ya, I really love keeping it simple. And this incredibly cute and versatile vibe is right up my alley. It's an easy-to-use vibrating silicone ring to slip on my index finger. I press the ring on the side with my thumb, cycle through the ten speeds, and voila! — a small, 2" x 1 ½" vibe goes anywhere my fingers and mind want to wander. I might slip it on and then use it against my cheek for some thrilling oral sex; I might slide it all around my juicy labia (both inner and outer). Maybe I'll slide it around for a zippy hand job; or, I might let it wander around my perky nipples. And I just might let it work its magic against my throbbing temples after a long day of work. Keeping it simple — now, you know how I roll.
Manufacturer Description:
"Put a ring on it" takes on a whole new meaning with the Maia Novelties Ruby. Our newest release Vibelite product includes 10 vibrating functions. Turn your fingers into your vibe with Ruby on your finger.

Copyright © 2023 Adnet Media. All Rights Reserved. XBIZ is a trademark of Adnet Media.
Reproduction in whole or in part in any form or medium without express written permission is prohibited.