Master Series Under Cover Ball Gag Face Mask
XR Brands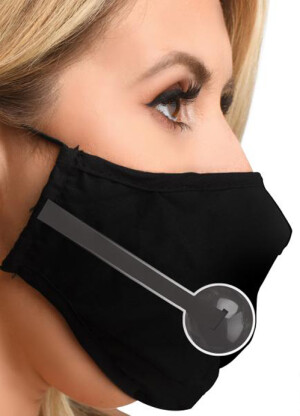 My first thought when seeing this product: Why wasn't this out during the pandemic? LOL. Want to protect yourself from colds and get pleasure at the same time? Let me introduce you to the Undercover Ball Gag Mask. The ballgag is 1.6" in diameter, the mask is breathable and has adjustable straps and a nose bridge so that no one can see why you can't talk. For dommes, this is a must-have for your BDSM collection — and another way to play and stay discreet.

For more information, contact XR Brands:
Manufacturer Description:
Keep your partner secretly gagged while in public! Use this lightweight, breathable cotton facemask in public places and hide the fact there's a rubber ball gag in their mouth! No one will ask questions about the mask and you'll be able to continue your kinky play that usually only happens behind closed doors in a public setting. Only you and your partner will know. The ball gag is a comfortable 1.6 inches in diameter and is made of TPE rubber. After you return home and your kinky play is over, throw the mask with attached gag into the laundry on a cool setting and let it hang-dry for best results.

Your submissive has been good, but the scene isn't over and it's time to go out! Since many people wear masks in public and don't bat an eye these days, you have them slip on the ball gag mask and tighten it so it doesn't get loose. As you walk around in public, they are quietly muffled and must swallow their spit or else it will get their cloth mask wet. Keep a gentle hand on them; that ball gag may just keep them in a submissive headspace even in public. Let them whimper and moan but don't let them speak until allowed! The kinyk game is a secret between only you two!

Copyright © 2023 Adnet Media. All Rights Reserved. XBIZ is a trademark of Adnet Media.
Reproduction in whole or in part in any form or medium without express written permission is prohibited.