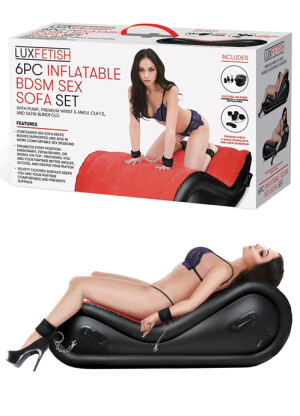 Like a kinky "bed in a bag," the 6-Piece Inflatable BDSM Sex Sofa comes with everything I need for explore restraint play. An automatic pump, which is battery-powered, is included, so it was easy to blow up the sofa and it served as a comfortable cushioned piece of furniture to play on. Its shape helps to get me into different positions and angles that would be difficult to hold with my body alone. The sofa has a soft velvety texture that feels nice to lay on and that I can easily move around on. Included with the set are cuffs for wrists and ankles, as well as a satin blindfold. I've hand numerous rendezvous on this sofa already as it offers so many possibilities. When my parents are coming over to visit, I can easily un-inflate the sofa and store it. However, it's pretty stylish and I don't mind leaving it out for guests to sit on if we need extra space. No one has questioned me about it yet!
Manufacturer Description:
The saying 'cushion for the pushin' has fallen out of vogue, but we need to bring it back for just a minute, because it fits so well into this specific scenario! The scenario being the 6pc Inflatable BDSM Sex Sofa Set from Lux Fetish, that is.

This unique and very pleasurable set consists of a bouncy, contoured blowup 'sofa' (it's really more of a giant curvy cushion) that can be used with the included wrist and ankle cuffs and classic blindfold. Once the velvety-lined vinyl Sofa has been blown up, you and/or your partner will be free to comfortably sit, lay, kneel or squat in all sorts of compromising positions. There are four sturdy handles at each side, and the Sofa holds up to 300lbs/90kg of weight, so give it all you've got!

If you're in the mood for some playful bondage action, you'll be able to connect any or all of the included cuffs to connection points along each side of the Sofa.

Copyright © 2023 Adnet Media. All Rights Reserved. XBIZ is a trademark of Adnet Media.
Reproduction in whole or in part in any form or medium without express written permission is prohibited.