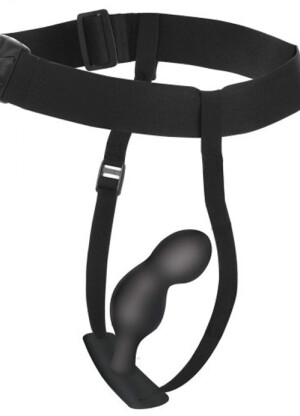 If your fantasy is to get that prostate tickled at an alarmingly fast speed while your hands are doing something else, have I got good news for you! This hands-free, multi-speed and -function toy is worn with an adjustable elastic strap that fits around the waist and right between the legs. The panel that holds the vibe in place is narrow and thin enough to not be in the way. The remote control is super easy to use to provide zingy thrills inside one's butt, and the anatomically correct shape is sure to hit every letter of the alphabet's pleasure spots once nuzzled between the cheeks. Don't forget! This perfect shape will also thrill the G-spot for us lucky vulva owners, too!

For more information, contact Master series:
Manufacturer Description:
Train your backdoor and stimulate your prostate at the same time! With this prostate plug set and harness you can wear a small, medium or large prostate plug for hours and hours with no trouble at all! Want to be able to take larger sizes and keep a plug in longer Start small and work your way up! Each of the three plugs are made of premium silicone so they are phthalate-free and body-safe; use only with water-based lubricants for best results. The plugs attach to the harness so you can easily keep it in place as you go about your day and do other activities. The harness itself is easy to adjust, comfortable, and has a wide elastic waistband with a buckle in front to close it.

First, choose which of the three plugs you're going to use. Then attach the plug to the harness and apply lots of water-based or oil-based lubricant to help glide the plug in. You can't use too much lube when anal trianing, so don't worrry about using a lot! Once you've inserted the tip, slowly push the rest in at your own pace; be patient, relax, and feel free to touch or massage yourself so you open up more easily. Once inside, allow yourself to adjust and move around, and then slide the straps up over your legs and waist. Adjust each strap for comfort and enjoy!

After wearing it for as long as you're comfortable, push the plug out using your anal muscles and clean the toy with warm water and mild soap, then spray with a toy cleaner and wipe dry. Store separately from other non-anal toys and do not store with other silicone toys unless there is a barrier between them.

Copyright © 2023 Adnet Media. All Rights Reserved. XBIZ is a trademark of Adnet Media.
Reproduction in whole or in part in any form or medium without express written permission is prohibited.