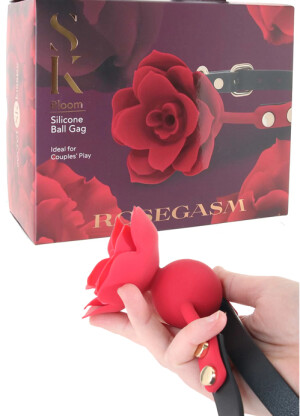 I absolutely love the packaging of this ballgag. The roses on the box are exactly the same as the rose on the gag. I love how the rose is super soft, and the silicone is flexible. The portion that goes into the mouth is well-sized. It is the perfect size to have my mouth open, but not stretched so much that my jaw started hurting after a short amount of time. I also love how it has a hole through the middle of the rose and the ball for breathing. I could easily cover the hole to do some breath play that is not so intimidating.

For more information, contact XGen Products:
Manufacturer Description:
When you and your partner(s) are playing along your merry, bondage-fantasy ways and a (consensual, of course) participant is in a not-so obedient mood, there are any number of solutions, it's true. That said, if you're looking for something that's not only super effective, but also drop-dead gorgeous, you've come to the right gag! Not only does this rosy piece of play gear look absolutely fantastic, it'll also keep you or a partner from spitting, biting, talking back and generally orally disobeying. Buckle up the black leather strap, positioning the silicone ball gag portion of the Bloom in their mouth. Once it's in place, said mouth will be temporarily plugged by a big red rose. There's a single breathable perforation through the rose's center, but it's better suited to players with some gag experience. When using any gag, please make sure to check in often to make sure a playmate can breathe and swallow comfortably. In hypoallergenic silicone, the Bloom Rose Ball Gag is odor free, taste free, and easy to clean. Before and after, wash it well with warm soapy water. * The Bloom gag is about 3.1"/ 7.9cm in total length, 1.5"/3.8cm in diameter, and 5.25"/13.3cm in circumference. Strap adjusts to fit up to about 8"/ 20.32 of head/neck diameter.

Copyright © 2023 Adnet Media. All Rights Reserved. XBIZ is a trademark of Adnet Media.
Reproduction in whole or in part in any form or medium without express written permission is prohibited.