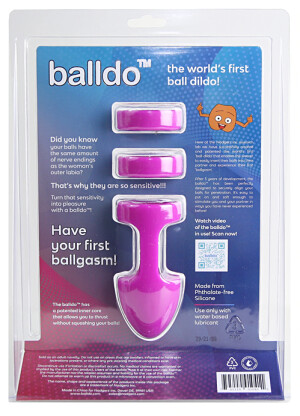 In case you've been under a rock for the past few months, the latest gizmo to go where no man has gone before is the balldo — the world's first ball dildo. Yes, you read right. With a similar number of nerve endings as a vulva, why should vulva owners have all the fun? To use it, simply trim or shave your nuts, add water-based lube to your junk, slide the family jewels into the center of this odd-shaped shaft, and use the two additional spacer rings to make sure your balls are firmly in the middle of the 1 7/8"-wide, silicone shaft head.

Once my ball-owning pal figured out how to use it, I tried it with him. It created a new kind of double dildo, with his real, attached dick as one part and the other, newfangled balldo dildo dangling between his legs. The fun and challenging part was actually using it, and once we figured out a comfortable position for both of us (with me hanging onto his stiffening cock), he smiled like he was jerking off for the first time. When it came time to shoot off, his balls did a happy dance within the balldo while his stiffy undoubtedly enjoyed the company. Of the balldo, I mean. I was just the mere recipient of his pleasure. So yeah, just like the company says, he sure did have a ballgasm!
Manufacturer Description:
Induce deep toe-curling orgasms with the Le Wand Bow. A beautifully sleek solid stainless steel wand that is perfectly curved for deep, effortless reach.

Let the Le Wand Bow gently slide into place and firmly press against your G-spot or stimulate the prostate for a next-level climax. Choose from the bulbous end featuring ridges that can act as a vaginal exerciser or elevate your intimate playtime with the smaller shaped end of the wand for satisfying targeted stimulation.

Stainless steel sex toys are renowned for their hardness, weight, and hygienic qualities. The Le Wand Bow is compatible with all types of lubricant, so try cooling them down or experiment with a warming lube for some titillating temperature play.

To clean the Le Wand Bow, simply use soap and water, pop the toy in the dishwasher, or boil it for 3 to 4 minutes to thoroughly disinfect.

Copyright © 2023 Adnet Media. All Rights Reserved. XBIZ is a trademark of Adnet Media.
Reproduction in whole or in part in any form or medium without express written permission is prohibited.