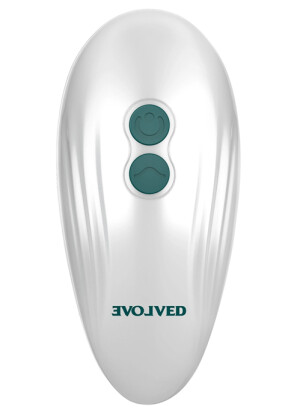 Oh! The things that go "thump" in the night! This discreet, palm-sized clit thumper is perfectly sized to get action right there. It's not a vibrator for a change: think of it as a steady, seven-speed tapper that goes from a pleasant pace to a sheet-grabbing thumping like no finger can ever provide. The soft, silicone face slides easily all around my vulva for extra thrills all around labia land, where it teases until I pull out all the stops to dance on my love button. It's perfect for us clit owners who want stimulation but live for something other than a buzz. I'll hump this thump for a long time!
Manufacturer Description:
Pleasure is in the palm of your hand! Grab hold of this creamy smooth oval that fits comfortably in your hand and explore your erogenous zones with an intense thumping sensation that helps you build to a powerful climax. The robust 7-speed motor throbs with delicious pulsations, even underwater as it's completely submersible for erotic bath time. USB rechargeable and easy to clean with Evolved Toy Cleaner and a warm water rinse.

Copyright © 2023 Adnet Media. All Rights Reserved. XBIZ is a trademark of Adnet Media.
Reproduction in whole or in part in any form or medium without express written permission is prohibited.