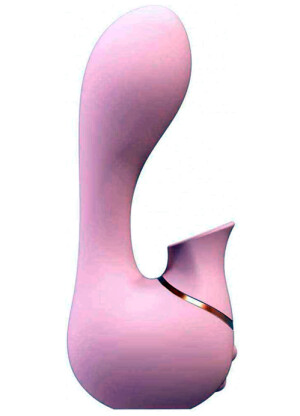 I was first introduced to the Irresistible Mythical last month at the XBIZ Retreat in Miami, where Shots America was showcasing the Irresistible collection of stimulators featuring Touchless Airwave Technology. There were just so many unique and really cool shapes that I had a hard time deciding which one I wanted to take home!
Available in in purple, black and pink colors with rose gold accents, each stimulator in the line is made of silky-smooth silicone. While the rest of the models in the Irresistible line come in an array of round shapes, I opted for the Mythical, which is shaped to provide both external and internal stimulation. With an insertable length of about 3.66 inches, this toy is far from intimidating.
The Mythical has a powerful 10-speed motor with a flexible shaft and a curved shape is perfect for G-spot stimulation while the Touchless Airwave Technology provides mind-blowing clit stimulation — resulting in intense internal and external orgasms. Touchless Airwave Technology works by gently and indirectly, stimulating the clitoris with 11 different intensity levels ranging from super-soft to powerful.
With suction encircling the clitoris without touching it, this toy stimulates it via soft pressure air waves. Another important feature of the Mythical is its hygienic sealed membrane that protects the toy's mechanism from body fluids. It was complete bliss to use this toy without wondering if I'd be able to effectively clean it off later. Another fun fact about the Irresistible collection is the story behind its branding.
Back at the XBIZ Retreat, I was made aware that the product names, as well as a banner that was used to promote the collection, was inspired by the classic 80s hit song "Simply Irresistible" by Robert Palmer. All of the Irresistible collection's product names are words taken directly from the song's lyrics, and a banner featured the iconic ruby-red lipped models in the background.
In addition to its high-quality design and technology, clever marketing campaign, the Irresistible line comes in flawless, classy box packaging. The Mythic is my favorite because of its dual-action features, but overall this whole line really is simply irresistible.
Manufacturer Description:
The Mythical has a super powerful 10 speed new generation F1 motor with flexible tip vibrator that accommodates any woman's shape.
The Mythical has a rechargeable battery with a magnetic USB charging port and included charger. When fully charged it will last for 60 minutes.
Waterproof, made from medical grade silicone, easy to clean.
Copyright © 2023 Adnet Media. All Rights Reserved. XBIZ is a trademark of Adnet Media.
Reproduction in whole or in part in any form or medium without express written permission is prohibited.