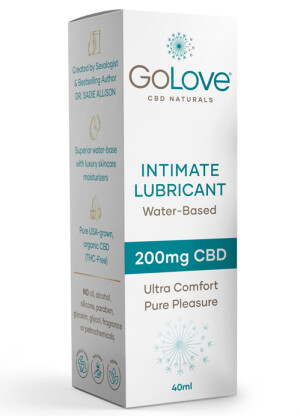 Dr. Sadie Allison took her time developing Go Love and it shows. Many CBD lubes on the market are oil-based because CBD is not water-soluble, but Dr. Sadie and Ph.D.-formulation scientist John Renko cracked the code and created a lightweight, water-based lube that feels like slippery satin while continuously moisturizing and comforting during use.
As far as the "effects," no, CBD won't get you high! The purpose is primarily pain-relieving/anti-inflammatory — really wonderful when it comes to alleviating discomfort (endometriosis, postpartum, post-chemo/cancer treatment). Go Love excels at being the best of all worlds, equally hydrating as it is pain-relieving. The best way to explain it is that arousal was more enjoyable, which allowed me to relax, and in turn facilitated a G-spot orgasm quicker than usual.
The scent is lovely, as is the flavor and I appreciate that (keto-friendly!) Chinese monk fruit was used as the sweetening agent — which means no artificial sweeteners to throw your pH off, or kickstart a yeast infection.
All CBD lubricants I own are oil-based, and the fact that Go Love can be used with toys is a bonus! There are many body-conscious benefits that were kept in mind during development, solely to benefit the end-user. After using Go Love, I feel like regular water-based lubes leave something to be desired. Go Love and you'll never go back!
Manufacturer Description:
The solution is our unique blend of body-safe ingredients, natural soothers and skin-nourishing hyaluronic serum—balanced with a uniquely satisfying level of high-quality organic CBD. Water based.
Copyright © 2023 Adnet Media. All Rights Reserved. XBIZ is a trademark of Adnet Media.
Reproduction in whole or in part in any form or medium without express written permission is prohibited.