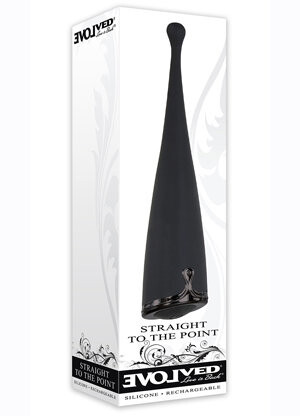 The technology of vibrators fascinates the daylights out of me. We all know what vibrators are but do you actually know what makes a vibrator vibrate? It's pretty simple. A vibrator is basically a motor with a pin that spins around but the magic ingredient is an off-centered weight at the top of the pin which rapidly throws the pin "off" and that creates the vibrating sensation. So along comes Straight To The Point from Evolved Novelties, which houses the tiniest, off-centered weight at the tip to provide pinpoint stimulation to the perfect point of pleasure.
The itty bitty tip of the 10-speed vibe can easily be used for delightful self-stimulation or non-intrusively shared during partner sex. The rolling speed selection even slows down enough to almost a stop, letting the lucky user catch her breath in between climaxes. The easy to use button at the bottom is perfectly placed so speeds can be changed during her trip into orgasmic bliss. Aaaahhhh…...
Manufacturer Description:
This precision vibrator looks so much like a high-end tech device with its slick black shape and stylish chrome base that you could pull it out of your purse at a work meeting without anyone blinking an eye, yet it's designed to be an erotic micro-wand that effortlessly targets your primary erogenous zone! In fact, you can place it anywhere on your body that you choose to feel powerful vibrations concentrated in an elegant teardrop point,and bring it underwater with you as it's completely submersible. Discover your pin point of pleasure with the toy specially designed to arouse it!
Copyright © 2023 Adnet Media. All Rights Reserved. XBIZ is a trademark of Adnet Media.
Reproduction in whole or in part in any form or medium without express written permission is prohibited.