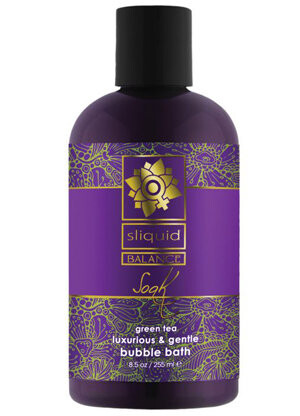 I try to take baths — as opposed to showers — as often as possible. My spacious bathtub demands it. For this reason, I pick up just about every bath product that I come across and add it to my arsenal. It could be hit or miss at times — beautiful scents often draw me in, only to find my skin feeling itchy and dry after my relaxing bath.
The explosion of bath bombs (no pun intended) has made them available everywhere I shop, and while they're fun to use and have made me a little bit obsessed with trying out as many scents and colors, they don't always leave me feeling "clean." Sometimes, as I see the colors staining the sides of my tub, I wonder how much of that residue stays on me even after a good rinse. Additionally, bath bombs don't often provide the big foamy bubbles that I'm looking to drown my stress away in.
Sliquid Soak to the rescue. It is a luxurious, all-natural bubble bath in which to immerse your senses. The aromatic, foaming bath soak is both soothing to the skin and gentle on intimate areas. Formulated without any of the harsh chemicals typically associated with bath products, Soak is infused with natural sea salt, mango and shea butters. Soak is free of propylene glycol, glycerol, glycerine, parabens, and is vegan-friendly and is made in the U.S.A. This body-friendly formula is also good for the environment with 100 percent recyclable packaging.
The dark purple bottle that it comes in holds 8.5 ounces of the "luxurious and gentle" bubble bath, which lasted me throughout several uses over the course of about two months. The bottle is easy to squeeze when I'm feeling anxious and need those bubbles in the tub (stat!) The bottle's label is adorned with a lovely paisley pattern, and overall it's very chic and discreet — unlike some of the childish packaging and scents I've come across. I decided to go with the green tea scent and wondered if I would like it … I love green tea, but it can sometimes be a strong smell. I wondered if I was going to feel like I was sitting in a giant cup of tea during my bath. Fortunately, Sliquid only offers the most sophisticated of scents that aren't too overpowering. The soothing, fresh green tea scent serves as aromatherapy that will surely increase your relaxation.
Known for its commitment to safety and natural, clean products, Sliquid stay true to its mission with its full assortment of body-friendly products. Soak feels comfortable to just lie in, and it leaves the skin feeling smooth when you exist the tub. I poured in the bubble bath as I turned on the faucet, and almost immediately bubbles began to form. The bubbles stayed the whole time I bathed, and when I wanted even more, I just turned the faucet back on to reactivate the suds. After I was done, Soak washed away effortless and I immediately couldn't wait for the next time I could use it.
Manufacturer Description:
An aromatic, foaming bath soak that is both soothing to the skin and gentle on the most intimate areas.
Copyright © 2023 Adnet Media. All Rights Reserved. XBIZ is a trademark of Adnet Media.
Reproduction in whole or in part in any form or medium without express written permission is prohibited.