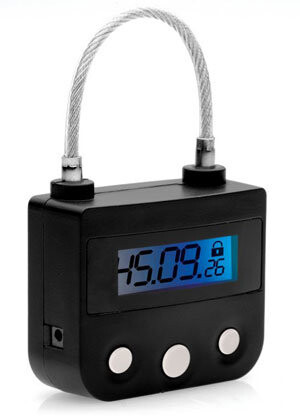 This electronic lock adds some major control for whatever reason you might want to dominate someone/something for up to 99 hours. The package does an accurate job on displaying the functional use of this device by showcasing various items you can lock with it. The device itself is easy to use. Simple instructions guide you through the three button controls — hours on the left, minutes on the right, and "set" in the middle.
Once you have committed to a time, a five-second countdown will begin offering you a short window to cancel the mechanism from activating. The plastic coated braided cable offers plenty of durability as a seal. As a warning to anyone that is interested, there is no way to open the lock before the timer counts down unless you are willing to cut it off.
For more information, contact XR Brands:
Manufacturer Description:
No matter how much you beg and plead, this ingenious lock has a set release that ensures you serve your time! While most locks rely on human whims, this digital lock controls whatever it is attached to- use it for bondage, ball gags, or their favorite toy. Revel in a complete loss of power, whether you are being punished by your owner or engaging in escape-proof self-bondage.

Copyright © 2023 Adnet Media. All Rights Reserved. XBIZ is a trademark of Adnet Media.
Reproduction in whole or in part in any form or medium without express written permission is prohibited.