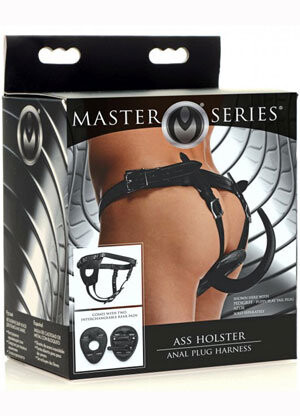 Kudos to Master Series for making a vegan-friendly, non-leather harness that even fooled this long-time leatherwoman. No kidding. Beautifully made and remarkably stitched, this sturdy harness can be used many different ways with its standard front harness for dildo or cock support, and the two different ass pads that can firmly hold many types of anal plugs against and in the body. The straps rest comfortably without any digging in and the buckles allow for a custom fit every time. You're sure to get years of use out of this cleverly designed, well-made harness no matter who you are and whom you use it on.
Marketing tip: Be sure to highlight the versatility of this harness no matter who your customer is. The quality of this harness can't be beat and the versatility will let the buyer have lots of pleasurable experiences.
For more information, contact XR Brands:
Manufacturer Description:
Lock your submissive, slave, or puppy up in harness keeps their cock and balls exposed while their ass is plugged! This attractive, leather-like harness adjusts around the waist and buttocks for a customized fit, tightening against their asshole to keep your favorite plug or dildo pushed deep into them. Two rear pads are included to accommodate a standard butt plug, with velcro straps that will lock in the base, or a tail plug, with a hole that allows the accessory to flow out for exposure. The cock and ball opening keeps their package in convenient reach for you to play with. Locking buckles will keep your slave helplessly trapped!

Copyright © 2023 Adnet Media. All Rights Reserved. XBIZ is a trademark of Adnet Media.
Reproduction in whole or in part in any form or medium without express written permission is prohibited.