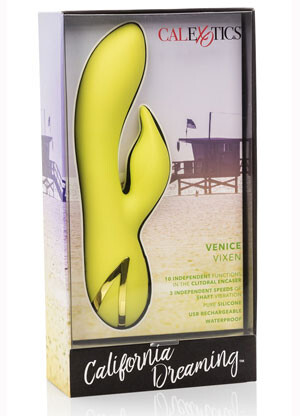 This beautiful toy lives up to its name, transporting me off — shaking — to what felt like the relaxed shores of a beachside dreamland. The brightly colored vibe has metallic accents that make it look more like a futuristic work of art than a rabbit, and part of this is also owing to its most unusual feature, the clitoral encaser. It's a hefty silicone loop that, unlike other rabbit vibes, fits over the entirety of the clit and provides full stimulation all over rather than just on the sides. And even the vibe's shaft felt innovative, curved just enough to grace my G-spot without poking me in the cervix. For me, it's definitely a frontrunner in the new wave of rabbit vibes hitting the market.
For more information, contact CalExotics:
Product Description:
The CalExotics California Dreaming Venice Vixen is a brightly colored, easy-to-use rabbit style vibrator featuring a powerful motor and convenient memory chip.