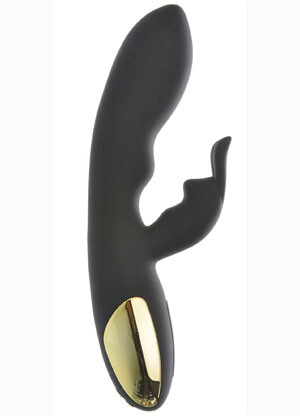 Drop everything you're doing and go buy the Midnight Rabbit from Adam and Eve. It's hands down the only rabbit vibrator you're ever going to need to purchase again. With a slick silicone body and a gold grip, it's as stylish as it is useful — and boy, is it ever useful. Both the internal head and external stimulator, the "ears" of which fit perfectly on either side of a clitoris — are flexible and bendy enough to be able to get the perfect angle either alone or with a partner. The internal section is perfect for those with shallow G-spots, bending in just the right direction to press both strongly vibrating sections right where they make the most, and wettest, impact.
For more information, contact Adam & Eve:
Product Description:
Take your pleasure to the next level with unparalleled style and power! The Midnight Rabbit is ready to take you on a journey to the pinnacle of ecstasy. Think you know how intense a rabbit can be? Think again.