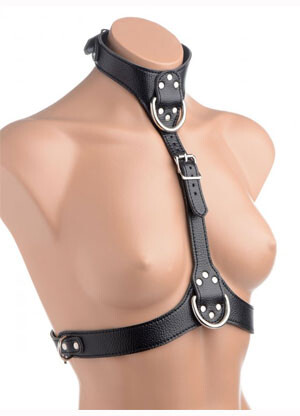 Do you love fashion? Want a little more style for when you are getting it on? Try on this sexy number and watch heads turn. Made to flatter a lady's body, it has three adjustable buckles to make it fit your body like a glove. Want to add more into the mix? The harness has two large D-rings, one on the neck and one on the midsection that you can attach whatever you want to —perhaps some handcuffs or use with rope play. Great to even wear to your next event, especially the Oscars.
For more information, contact XR Brands:
Product Description:
This attractive chest harness has three adjustable buckles to ensure a flattering fit on a range of female bodies. Made of a heavy-duty leather-like material with chrome hardware, it is striking and memorable for BDSM play. Two large D-rings, one at the neck and one at the sternum, serve as attachment points for other accessories such as wrist cuffs, a leash, chains, or rope. Outfit yourself or your submissive in this beautiful and versatile harness.