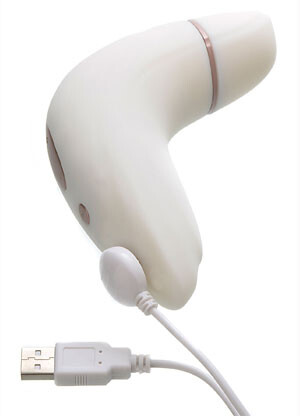 Like all the products in the Satisfyer family, the Pro Plus Vibration offers 11 intensity settings. A quiet yet powerful motor delivers a range of satisfying vibration settings. The pressure waves and vibrations can be controlled separately, allowing you to find the perfect combination no matter what you're looking for. Thanks to its waterproof finish, the Satisfyer Pro Plus Vibration can be used in the shower and bath. Talk about a soothing experience!
Featuring a body-safe silicone head that is ergonomically shaped, the device nestles close to the clitoris and encircles it with precision. The head is also interchangeable, which makes it extremely easy to clean — a feature that definitely encourages repeat use.
The design of this Satisfyer is made in the likeness of an Australian boomerang, the company says, which is cute and unique. And much like the boomerang's ability to always come back to you, the Satisfyer Pro Plus Vibration will have you coming back (every time) for more. It's design also made it easy to hold and control. The buttons are easily accessed while in use alone or with a partner.
The pressure waves are activated by the on/off button, and can be adjusted up and down using the +/- buttons. The vibration is controlled by another button, allowing you to enjoy the two functions separately. I'm a fan of the more powerful intensities, but do enjoy warming up with the softer suctioning levels. When I'm almost at the point of orgasm, I switch it to vibration to get the job done.
Product Description:
Enjoy a great clitoris stimulation with the Satisfyer Pro Plus Vibration. This air pressure vibrator has a bent shape, so you always have a good grip on the toy during use. The soft silicone tip perfectly fits around your clitoris for an optimal stimulation. The vibrator has two motors that can be controlled separately. There are 10 vibration settings in total (3 speeds and 7 patterns) and 11 air pressure speeds. The vibrator is completely waterproof and is made of soft and smooth body-safe silicone. It comes with a magnetic USB charging cable, so you can easily recharge the vibrator. Clean the toy before and after use with water and toy cleaner for a hygienic use.