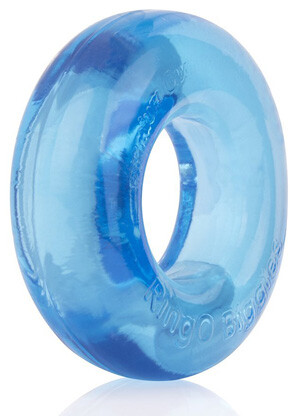 This no-nonsense ring is extremely thick when compared to "standard" cock rings. The ring's packaging states that it is "Independently certified to be made of SEBS (Styrene-ethylene/Butylene-Styrene) material," as are most Screaming O products, meaning it has been tested for safety. As far as use goes, it does what it is supposed to do. The material is super-stretchy so it can fit at the base of the shaft or wrap around the sack as well. The toy is completely waterproof due to being one solid piece.
For more information, contact Screaming O:
Product Description:
Ringo Biggies enhance performance with a thicker, cock ring designed to make a massive impression. Made of lab-tested, body-safe SEBS, Ringo Biggies are stretchy to fit most sizes and provide simple and effective results without frills or fuss. Whether worn around the penis or the penis and testicles (you choose the fit!), Ringo Biggies feel snug and secure and boost pleasure during partner play, masturbation sessions, endurance training and more. And for an especially impressive look, try wearing Ringo Biggies under jeans or shorts for a prominent package that'll catch attention from across the room!