Master Series Spread Labia Spreader Straps
XR Brands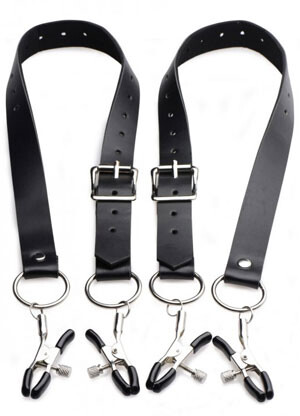 Okay, so what basically looks like a set of very short pants suspenders with alligator clamps on the ends, these straps fit around the tops of a woman's thighs and the clamps are pinched onto the upper and lower labia lips. In short, they're ingenious! Sure the package says "perfect for humiliation play" but the last time I spread my lips this wide, it was for my partner to have an uninhibited box lunch at the Y. This is perfect for anyone to indulge in wide-open vulva play whether it's to have hands-free snacking or to allow for deep plunging of any penetrator be it dick or dildo. The package's small box packs lots of fun to make her box a bigger one!
Market Appeal
Promote this clever device not only in your BDSM department but suggest it to customers who are looking for non-topical stimulation. Nothing like having a wide-open labia to enjoy new experiences!
For more information, contact XR Brands:
Manufacturer Description:
Turn up the intensity of your kinkiest scenes with these unique straps, designed to wrap around your thighs, clamp onto your labia, and spread them open! Perfect for humiliation play, gynecological roleplay, or whatever wicked fantasies you want to bring to life, this unique set keeps your partners genitals ultra sensitive and helplessly exposed like never before. The straps are lined on the interior with a velvety softness and have buckles to adjust the fit around your thighs. The rubber-tipped clamps have thumb screws that adjust their pressure. Get creative with your BDSM scenarios!

Copyright © 2023 Adnet Media. All Rights Reserved. XBIZ is a trademark of Adnet Media.
Reproduction in whole or in part in any form or medium without express written permission is prohibited.