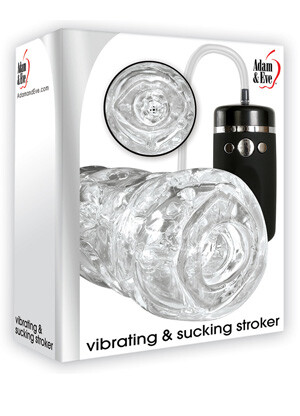 A clear sleeve made of thermoplastic rubber (TPR) and a hose leading to a controller is all there is to this piece. Being made from TPR, we made sure to use a water-based lube as to not damage the material. The functionality works just fine — the stroker does create a firm seal that mimics the "sucking" motion that the packaging boasts about. Luckily there is also a quick release valve to release any over-suction that might build up. You can also use one of the nine vibrating functions if you so wish.
For more information, contact Adam & Eve:
Product Description:
Enjoy on-demand pulsing suction action whenever you want! Your wildest oral fantasies come true with a soft, stretchy TPR sleeve that eagerly sucks your shaft in –– then stimulates with your choice of 9 different vibration functions!
Control all that sucking power with the quick-release valve, then let the vacuum pump do it again...and again! This 6.75" tall stroker is 4.5" deep, 2.5" wide, and it's lined with nubby textures to satisfy you like no mouth can. The easy-to-use controller is perfect for one-handed play. Use with water-based lube for best results and out-of-this-world happy endings!