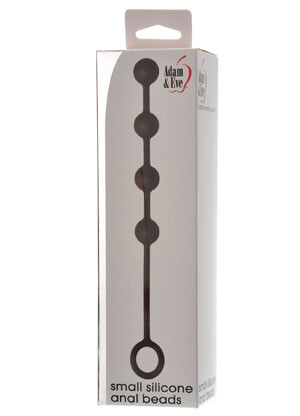 We found these beads to be a great introduction to back door play. Even from first sight we knew these would be perfect. Four ¾-inch beads seemed to be just right for amateurs. All the beads are the same size, a fact that really helped with the choice. The packaging shows the product in full sight. Just a picture of some anal beads and "Small Silicone Anal Beads" printed on the front. Written on the back are the instructions for proper use and the recommended cleanup strategy. We feel as though this toy did exactly what it was designed for. The size was not intimidating and actually created an amazing time. We would absolutely recommend this for anyone looking to start something new.

For more information, contact Adam & Eve:
Product Description:
Explore your deepest anal fantasies with ease! Made of ultra-smooth and flexible silicone, each bead is only .75" wide to tease your tush with maximum comfort. Add plenty of water-based lube and press in one, two, three, or all four beads for big anal satisfaction. Use the retrieval loop to slide the beads back out slowly and sensually.