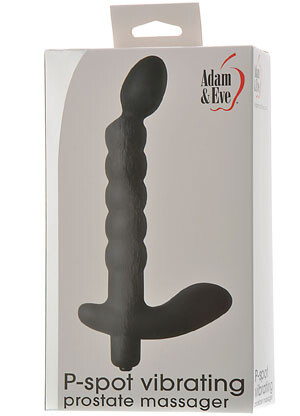 Coming in at seven inches in length and a one-inch girth, this silicone massager will most certainly let you know when it is in place. If you have any doubts you can refer to the box that houses this vibrator. The cover art replicates the exact size of the "P-spot." When it came to insertion I personally found it to be a great design that the first nodule was first yet extremely flexible compared to the rigidness of the rest. After that initial bump the housing for the batteries creates the stiff shaft making up most of the length. The safety base adds to the ensemble and also vibrates when turned on. The vibrations were plenty strong to be felt through the body. If you are looking into some P-spot play, this novelty isn't as scary as it seems.
For more information, contact Adam & Eve:
Product Description:
The A&E P-Spot Vibrating Massager features a flexible angled tip that makes your prostate easy to find while delivering intense vibrations. This direct stimulation will leave your toes curling as you experience a super-strong and super-long O!