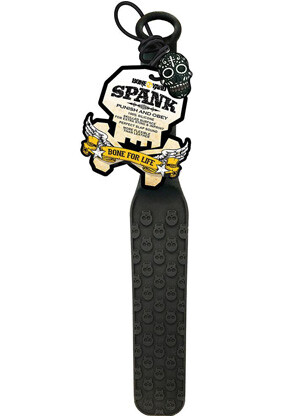 I'm no BDSM expert, but The Spank might just turn me into a BDSM fanatic! I absolutely loved the design — simple but elegant and sexy. The medium sized paddle comes with a sugar skull keychain, and is branded with raised skulls that imprint on the skin when used. The sound this toy makes when it comes in contact with skin is gorgeous, and sensual. The all-black color gives this otherwise raunchy equipment an elegant look, and the 100 percent silicone body is cool and smooth to the touch; not too mention really, really flexible! It doesn't matter what level of intensity you prefer, this toy is for adults of all ages and curiosity levels.
Product Description:
The Spank is a paddle for the beginner to the advanced enthusiast made from 100% soft touch silicone with a sleek finish. The flexible Spank is a rectangular shaped paddle with rounded edges. The powerful and iconic Boneyard-branded design features raised skulls that temporarily imprint into the skin. The Spank features a large hanging loop at the end for easy storage, and comes with a collectible skull key chain. The Spank measures 14.75" (37.5mm) in length (including handle) and 2.25" (5.7mm) wide.