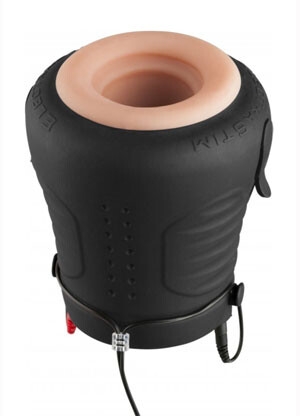 I'd describe my level of experience with electro-stim as intermediate. My partner and I have experimented with it mainly during foreplay on different parts of the body but never on each other's genitals. When we received this electro-sex stroker I was a bit hesitant but not too much since as a fan of electro-stim I've done my research and am familiar with ElectraStim's quality products. I knew that this toy was made to please.
This stroker features side ports for the conductive gel that ooze into the inner sleeve, which features a ribbed texture that massages the penis beautifully. Use it with the ElectraStim electro stimulator to send unique sensations to your member, which you can control with ease with the controller. Get ready for "e-gasm" unlike anything before.
Product Description:
ElectraStim Jack Socket is a unique electro sex toy that was designed especially for sensual male stimalation. ElectraStim Jack Socket combines the realistic sensations of a stroker with the addictive orgasmic feel of erotic electrostimulation.