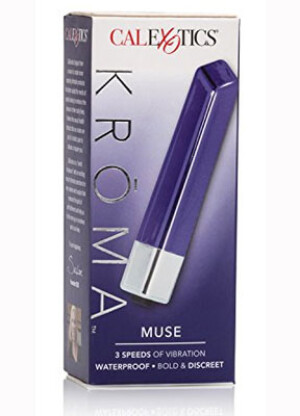 I love this sleek, uniquely shaped bullet that can easily pass off as a lipstick. It's simple to use with its single button that controls the three powerful vibrating functions that it offers. The shine from the chrome look of the vibe makes it really easy to find even in the dark. I was trying to not wake my roommate during my late-night playtime session so I kept the lights off as I quietly dug through my bag and there it was — glistening in the darkness and pretty soon I was the one glowing with pleasure.
For more information, contact CalExotics:
Product Description:
Designed for the perfect discretion no matter where you travel, this beautiful compact product is ready to go whenever and wherever you are. Enjoy the ultimate in pleasure. Designed for easy use, you will find operation a snap even on the darkest night. Frustration free and perfect for pleasure, just one push brings intense stimulation your way. An instant on/off button means you can turn on with ease and turn off when you are fully satiated.