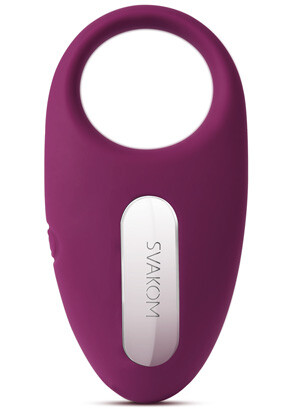 Introducing Winni, the penis' new friend. This lovely vibrating cock ring is sure to bring some fun to any bedroom. It's silicone with multiple functions that makes orgasms that much easier. A special bonus is that it comes with a remote to control it. Plus, it comes with a warranty should anything go wrong. Lastly, on the back of the box they remind you to please store it where the kids won't find it, always good advice!
Product Description:
PRODUCT FEATURES
• Smart remote control
• Prolong intercourse durability
• Designed specifically for couples
• Ultra soft & body-safe silicone
• Super powerful vibration
• 26 different sensational sexual experiences
• Environment friendly material
• Environmentally friendly material

Winni contains a lithium battery and it has a battery capacity of 430 mAh which can be fully-charged in only 1 hour. Winni possesses the ability to improve the sex life of both partners. It can prolong man's endurance and stimulate woman's pleasure at the same time. Winni can be used by woman as a clitoris stimulator. By limiting blood flow it will also enhance man's pleasure during masturbation.

1 Year Warranty
The 1 year warranty covers to one year since the purchase date. If there is a quality problem during this period, you can claim and receive a free replacement. Noted that our warranty range includes the problems caused by material flaws, manufacturing flaws, and the parts that influences the normal functioning. Damages caused by improper operation, overused abrasion and disassembling the product are excluded from our warranty range.