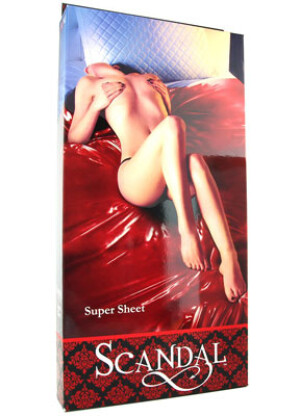 This sheet is awesome. The gorgeous goth red is fantastic. It is beautifully made with no weird plastic smells, and easy to open so you can start to play with it right away. This sheet is sturdy and thick, so you can rest assured that your bed underneath won't be damaged by whatever activities you choose to do above the sheets!
For more information, contact CalExotics:
Product Description:
Keeping clean never looked so tempting. The Scandal Super Sheet is an erotically shiny red sheet that inspires naughty thoughts galore before it even makes its way out of the box. This body-safe, PVC sheet can be draped over just about any surface you can imagine for sensual sensations, exotic appearance, and worry-free play. Drape this king-sized vinyl sheet over your chair and take your lover from behind. Lay it over your couch and let your partner treat you to a sexy massage without the mess. Cover your bed for wet and wild lovemaking without the time-consuming cleanup. Or lay it down on the floor and go to town on making your passionate fantasies a reality. The sheet is perfect for realizing your kinkiest desires and igniting romance without the mess. Just roll up the sheet and all evidence of your naughty encounter disappears! Plus it's easy to clean. Get wet and messy with food, lube, or fluids. This sheet will keep your furniture protected through thick and thin.