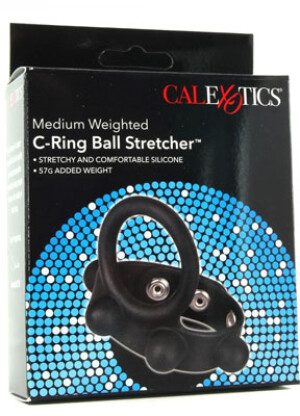 The C-Ring Ball Stretcher by CalExotics is a hybrid blend between a cock ring and ball stretcher with weights. The entire piece is made from body-safe silicone and features five metal snaps. The size adjustments seem to be proportionally distanced from each other; each of these adjustments tighten the grip just enough to create a different sensation. The ring has a 1.25 inch diameter creating a rather snug fit. The four nubs containing the weights are well covered with silicone making sure not to expose any bare metal. In the grand scheme this device does everything it boasts flawlessly. It's a quality product that will last a long time if taken care of.
For more information, contact CalExotics:
Product Description:
Stretchy and comfortable Silicone C-ring with added scrotum strap. Weight: 2oz/60g of total stretching power.
Soft and smooth, thick and durable Silicone. Fully adjustable, three snap design. Heavy-duty, nickel-free hardware.
Materials: Silicone (enhancer) Nickel-Free Iron (rivets).