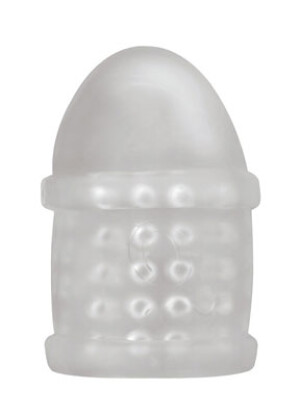 Screaming O brings us a "mansturbation" sleeve that is a little easier to pack away due to its size. The "Jackit" is about three inches long and made from stretchy SEBS material. It will certainly fit most sizes.
The goal is to work your hand and grip to a point that the sleeve stretches and extends, working the whole shaft. Using the Jackit enhanced the experience with the textured nubs on the inside. They look strikingly similar to a Dalek when rolled inside out for cleaning. Speaking of, clean-up was simple with some warm water and soap.
In the end, the Jackit feels comfortable and makes the whole experience just a little bit better. The price is also a lot more affordable when compared to some other sleeves.
For more information, contact Screaming O:
Product Description:
Enhance your hand and make self-love more fun with Jackits, revolutionary reusable male masturbation sleeves designed for an easy-to-use, convenient and discreet experience. These compact and portable sex toys for men look small but stretch wide and long to fit almost any size and are equipped with a nubby interior texture to intensify the sensation.

To enjoy, apply your favorite water-based or silicone-based lubricant to the inside of your Jackits and squish the stroker around in your hands to distribute evenly. (Jackits are not compatible with oil-based lubricant.) Then insert your penis and experiment with speed, grip and depth to find your favorite ways to jack it with your Jackit. These clever strokers are made of body-safe and ultra-durable SEBS for epic softness and a cushy feel that feels incredible against sensitive skin – whether for a quick tug, a stronger stroke session, or a handjob upgrade, Jackits amplifies ordinary masturbation for an extraordinary manual experience.