Wavecare Advanced Intimate Toy Care System
Dorr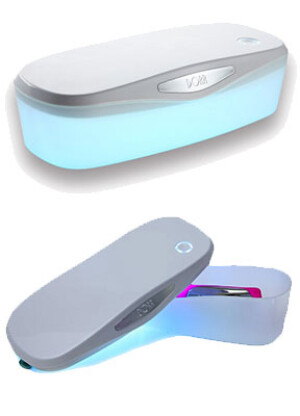 This is one of the best things I have ever gotten in my sex toy reviewing career. This baby is so freaking useful; I can't believe I haven't had one of these things before.
The Wavecare is the ideal cleaner for all your toys! Well, as long as it fits in the box. But whatever you can fit into the box you can clean. It's great for your nipple clamps, dildos, vibrators, phones and butt plugs. Oh, yes I did use it for my phone too.
And you better believe there are more products that I want sanitized with it. You get so much more use of out this than just for toys. It provides complete disinfection of whatever you shine the light on. Get disinfecting today!
Market Appeal
A big push for this is the health aspect of it. The UV light helps eliminate allergens, bacteria, viruses, mold, fungi and more. Some people are very particular about how they clean their sex toys and they should be. This is the ultimate clean. This item can be placed all around the store, in any section. It is excellent for cross merchandising.
It's small and lightweight and doesn't take up much space. You may even have one out so people can see how easy it is to use. Once they see that they will be hooked.
Manufacturer Description:
Utilizing advanced Ultraviolet Light (Ultraviolet-C Wavelength, also known as UV-C) to effectively kill or inactivate 99,9% of bacteria, virus and molds that may be found on pleasure and adult toys. UV-C light technology is one of the most effective and widely used sanitizing methods in hospitals or medical labs. WAVECARE is discreet, compact and portable; it can be used at home or for travel.Lithium-Ion rechargeable battery ensures ininterrupted operation when AC power source is not available.

Copyright © 2023 Adnet Media. All Rights Reserved. XBIZ is a trademark of Adnet Media.
Reproduction in whole or in part in any form or medium without express written permission is prohibited.