Apollo Wireless Grip Stroke Masturbator
CalExotics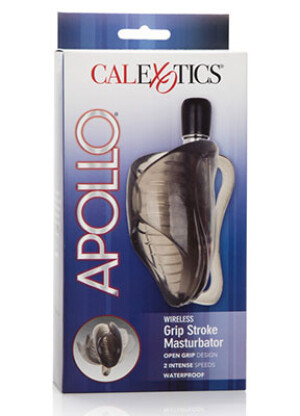 CalExotics offers us the Apollo Wireless Grip Stroke Masturbator to try and switch up an age-old practice.
The ribbed interior and fairly large bullet make sure that the experience is enjoyable for those with different preferences. An open loop system makes it so gentleman of all sizes can use this sleeve. The only real restriction is your hand size. I have to give credit to the designer who placed a flexible handle on the outside, this item becomes particular hard to hold onto after applying some lube.
The bullet is a two speed standard vibrator with a normal push button operation. It is really easy to maneuver inside the sleeve itself. For cleanup you can just remove the bullet and wash the entirely waterproof toy.
Market Appeal
Not as much of a commitment as a full-scale masturbator and definitely not a cheap knock off, the Apollo works with the customer to reach an end goal.
For more information, contact CalExotics:
Product Description:
Uniquely designed open grip masturbator - Ribbed chamber for explosive results - Stretchy easy grip handle - Designed to accommodate any size man - Powerful and removable wireless 2-speed stimulator for added sensations