Amoeba Cock & Ball Ring With Plug
TSX Toys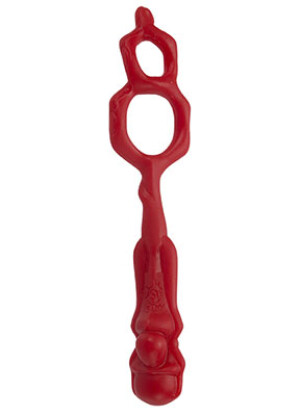 TSX Toys brings to us a very imaginative toy with the aptly named Amoeba Cock & Ball Ring w/Plug. Two elastic rings adorn one end of this concoction while the uniquely molded plug looms in the background.
The rings are quite a snug fit so you might want some lube nearby. They work much like other cock and ball restraints — one on your shaft, one around the sack, easy enough. Now you have a five-inch silicone plug hanging from your balls. Well, you can swing it around, smack loved ones with it, and you can even put it right up your rectum. It can do it all.
The head of this piece is that perfect level of firm and soft making it a nice introductory piece, but it sure is an interesting shape.
Product Description:
Made from body safe platinum silicone, the Amoeba is the perfect toy for beginners who are interested in dual stimulation and pleasure. The pliable material allows the cock ring to easily stretch around both the shaft and balls for a more intense experience. The Amoeba cock ring also features a small, but uniquely designed butt plug with two symmetrical bumps and a nice wide tapered head which can be inserted either the wearer or their partner!
Total Length: 9 inches, Max Width: 4 inches, Small Ring circumference: 3 Inches, Ring 2 circumference: 4 Inches