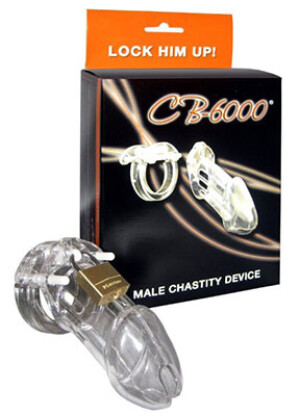 The CB-6000 by CB-X is a male chastity device from the brand's designer collection. What you can tell from one look at the box, right away, is that this is not your average plaything. An image of the shiny metallic gold chastity device (made from body-safe materials) adorns the box in near actual size. This is a device that is going to be strapped on and locked up. And by strapping on, we mean carefully, and with attention to detail.
It comes with various sized rings and locking pins, because this is going to need to be snug. We found we had to practice with the device before going to use it. It is an impressive piece, we haven't been able to "beat the boner" in order to actually get the device locked on, but the attempts are always fun.
Product Description:
CB-X's new CB-6000 Gold addition to their popular Designer Collection  is available in two sizes, the CB-6000 and shorter CB-6000S, to accommodate a wider variety of body types. Like all devices in the Designer Collection, the CB-6000 & CB-6000S Gold devices boast a luxurious finish made of an exceptional, durable overlay on lightweight, medical-grade polycarbonate material. Each device comes with everything to lock him up in the utmost comfort and security. Included in each box are a cage, 5-rings ranging in size from 1.5" to 2" inner diameter, locking pins and spacers, a brass padlock, a handy black zippered carrying case, and 5 individually numbered, travel-friendly plastic locks allowing the wearer to pass through metal detectors without setting off alarms.
The Gold CB-6000 cage is 3 1/4" long, the most popular size, while the Gold CB-6000S is 2 1/2" in length. Both the CB-6000 and CB-6000S have a diameter of 1 3/8" inside the cage. The cages are vented for hygiene and have an opening at the bottom allowing use at urinals. The varying size rings and spacers included allow him to customize his fit for maximum comfort, security and long-term wear. Each device is backed by a generous 1-year manufacturer's warranty.