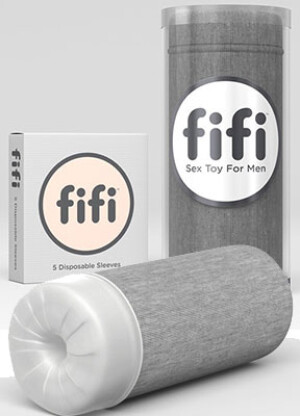 When I first got my Fifi I thought it was a towel rolled up in the tube. Well I was right, it is a towel rolled up in a tube, it is also an awesome stoker. Basically you roll up a disposable sleeve in the center of the towel, flip the open end of the sleeve around the base of Fifi and you have a nice, one-time use, stroker. I added a little lube and started to play. The stroking felt good and after a bit the warmth of the material enveloped my cock which pushed me over the edge. After I was done I simply threw away the sleeve and clean was done.
Product Description:
The fifi is a male masturbator that uses disposable sleeves. Each sleeve is designed for one-time use. No cleaning necessary, simply dispose of the sleeve after each use.