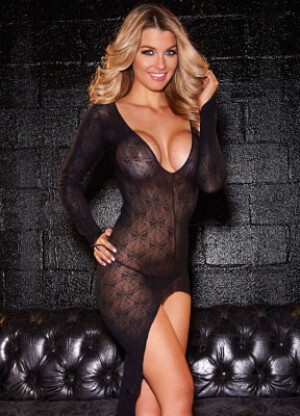 I totally wish this wasn't see-through so I could wear it all the time. It hugs my body's curves in all the right ways and makes my partner extremely excited. It's the right mixture of classy and naughty! While this is a longer dress than most, the slit in the front keeps them wanting more. The sleeves come with electric finger loops to make sure you stay on point. The pattern in the material is elegant and a little bit vintage-looking. This is going in my rotation.
Product Description:
Add some sophistication to your bedroom style with this Long Sleeve V-Neck Gown by Hustler Lingerie. This sleek gown clings to your curves.