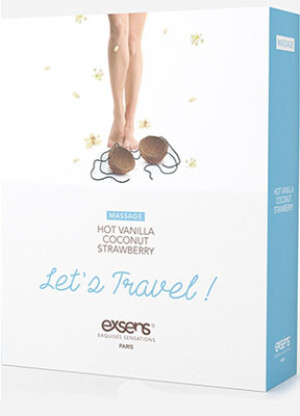 Let's Travel Massage Oil Set by Exsens of Paris is a sexy kit of warming massage oils that are packed with flavor. I enjoyed every mouthwatering flavor, which includes Coconut, Strawberry and Hot Vanilla. This is not only a massage oil, but gives you a warming effect with every stroke. Your sensual massages will never be the same with this new product by Exsens of Paris. The packaging is great for both the retail store or home parties.
Product Description:
2 in 1 Formula. Edible Massage Oil with warming effect. Discover gourmet massages for moments of intimacy and awakening desire. Mouth-to-skin contact intensifies the heating effect.
Delicious taste Strawberry, Coconut, Hot Vanilla. Silky smooth, not sticky, no bitter aftertaste, sugar free. No paraben, no henoxyethanol
• Available in 30 ml (1 oz) airless bottle
• 500µl dispenser
• Glow-in-the-dark strips on the bottle