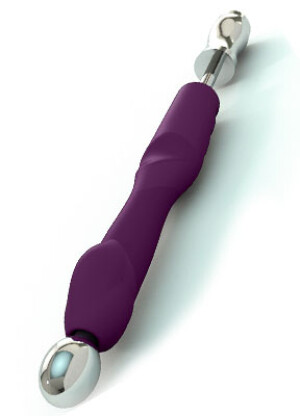 Yes the first thing you will think of is Inspector Gadget with this toy, and you may even make a similar type comment while using it in the bedroom. But that put aside this is a very fascinating, interesting and pleasurable product. First of its kind that I have seen, which is always fun when you see dozens of the same thing all the time. Made to use with your partner, the sensation is very unique, or "double thrust" as they call it. With moving both pieces at the same time you get G-spot and deep vaginal stimulation. The silicone and steel make for a great combination.
Market Appeal
Have a tester in stores for people to play with. Also to scare off robbers because this thing is solid! So I feel safe and satisfied at the same time. Keep over in your luxury items area. It is a very unique item and great for the person always looking for the next new thing. Doesn't hang but sits perfectly on a shelf.
Manufacturer Description:
The Go-Go Glider is unique in it's design as it is made to be used in extreme intimacy with your partner. There are unlimited movement combinations that can be used based upon the woman's specific desire. Communication, exploring, and learning are key to your extreme pleasure with the Go-Go Glider. Our goal is to bridge the gap of disconnect often experienced with other dildo sex toys (which have only one function) by bringing the need for communication and extreme closeness into the experience.

Copyright © 2023 Adnet Media. All Rights Reserved. XBIZ is a trademark of Adnet Media.
Reproduction in whole or in part in any form or medium without express written permission is prohibited.