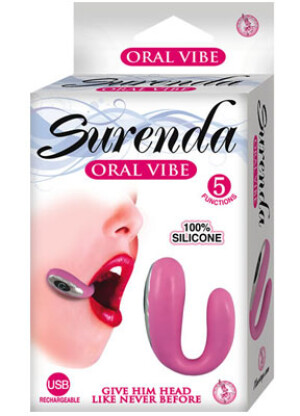 Look baby, no hands! Surenda Oral Vibe by Nasstoys is most likely a dream come true for many men out there. Just when you though the head couldn't get any better, your partner slips on Surenda and doubles (or triples) your pleasure. This tiny specialty vibe takes oral to another level. Surenda is a U-shaped tool that slides into the corner of the mouth and rests there to provide extra pleasure while giving head. It sends stimulating sensations throughout each pleasurable suck. The vibrations can be felt from head to shaft making the experience that much more enjoyable. Mmm, this will definitely send him over the edge.
For more information, contact Nasstoys:
Product Description:
The Surrenda Oral Vibe from Nasstoys adds vibration to your blow job! This body-safe, pure silicone, U-shaped vibe fits neatly against your cheek to add incredible vibrations as you do the job. This waterproof cheek vibe features five vibration functions and recharges with the included USB charger and cable. Phthalates free and RoHS compliant. It measures 2.25-inches in length and 0.625-inches in diameter. The charging cable measures 29-inches long.