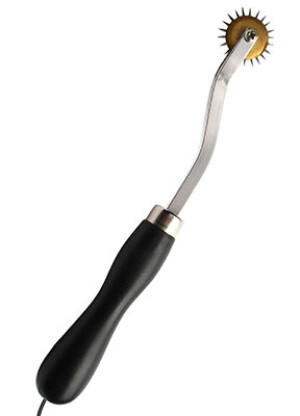 The Fetish Fantasy Series Electro Pinwheel by Pipedream Products comes in easy-to-remove packaging that gives the user an idea of what they are getting themselves into. Loving pinwheels, we were delighted to try this product. The tingles down our spines when using a pinwheel are only amplified (Haha, get it?) when used in conjunction with electro play. We would recommend that you try the wheel itself before applying the electric charge, just so you can learn the correct pressure.
Once you have that under control adding a pulse is as easy as wearing the wristband with the controller seated within the pouch and then choosing your desired settings. Slow/Fast, In/Out, and how strong the pulse is are the only things you need to worry about. If you have ever wanted to try electric toys and enjoy the sensation of pinpricks, this product is a conglomerate made for you.
For more information, contact Pipedream Products:
Manufacturer Description:
Give your sex life a charge with this incredible Electro Pinwheel. Perfect for beginners and those new to e-stimulation, this electro-sex Wartenberg device will send a jolt of pleasure anywhere you place the wheel.
Named after the famous neurologist, Dr. Robert Wartenberg, this pinwheel delivers a tingly feeling as the prickly pins roll across the skin. It produces a variety of sensations from a tickle to a bite depending on the amount of pressure you apply.
To serve some shock along with your fun, plug the pinwheel into the power unit. Slip the controller into the convenient cuff and strap it around your wrist. Place the adhesive pad on the arm that is holding the wheel, then place your free hand anywhere on your lover's body to activate the bipolar connection. You must have the pad attached to your body while your free hand touches your partner for the e-stim to work. An additional option is to place the adhesive pad on your partner instead of your arm, then use the pinwheel as desired.
The Luv Touch™ compact control unit sends electrical impulses to the Electro Pinwheel and can be used alone as a hand massager or together with the wheel. To use the control as a hand massager, switch to "IN" mode. The oval centerpiece delivers the shock once your palm touches any other part of the metal. To use the power unit with the gloves, switch it to "OUT" mode and connect the plug-in jack.
The Wartenberg Wheel is incredible for sensual play. Combined with a blindfold, restraints, and a feather, the heightened sensory experience will leave your lover breathless.
TIP: To increase conductivity and prevent irritation, be sure to use our Shock Therapy Electro-Sex Gel (PD3723-06) with your Shock Therapy purchase.
Copyright © 2023 Adnet Media. All Rights Reserved. XBIZ is a trademark of Adnet Media.
Reproduction in whole or in part in any form or medium without express written permission is prohibited.