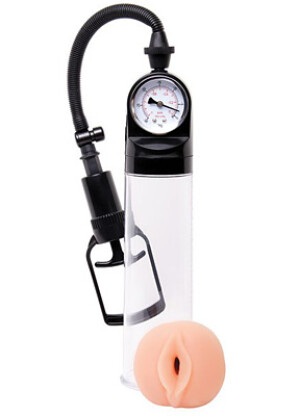 In this writer's opinion when you want something done correct you hire a professional to it. Whether that something is security system to contain the insurmountable amounts of tentacle pornography you have hidden in your basement from your roommate (also read as mom) or giving your favorite member of society (also read as your cock) a good pumping. Thank the cock pumping elders for the Adam's ProMax Pump from Adam & Eve. The ProMax offers nothing but professional pumping power and oh so nice silicone entry tip (yeah I said entry tip). Plus the single-hand operation of the pump leaves one hand to support all nine and half inches you can fit down the ProMax cylinder. If that isn't enough room, pat yourself on the back and re-think your need for a dick pump.
Manufacturer Description:
With its special no-crimp air hose, realistic air-tight seal and super-accurate pressure gauge, Adam's ProMax Pump is the helping hand your erection needs!
• Vacuum suction pulls blood into your shaft to improve your erection
• Every pump leaves you bigger & harder
• Recommended by doctors for men with erection problems
• Realistic silicone ring provides incentive & super-tight seal
• Special no-crimp hose & extra-large chamber make it easy to use
• Chart your progress with the heavy-duty gauge or built-in ruler
• Measures 2.25 inches wide and 9.25 inches long
• Cylinder made from plastic with a silicone ring for a tight seal
Penis pumps are one of the few sex toys actually recommended by doctors worldwide to help men suffering from erection problems. The ProMax Pump creates a super-strong vacuum inside the clear chamber. This vacuum tugs on your penis, naturally stretching your tissue to boost your length. It also pulls more and more blood into your shaft, boosting your girth and giving you a firmer erection. Every time you squeeze the handle, you increase the pressure in the pump and its effectiveness.
Adam's ProMax Pump puts users first. The silicone ring is shaped like a woman's lips, making it a pleasure to slide inside, while naturally stimulating your erection. The pump comes with a special no-crimp air hose so you don't have to worry about it getting twisted or cutting off the suction. And the chamber is extra-large to accommodate your new growth comfortably and safely.
Copyright © 2023 Adnet Media. All Rights Reserved. XBIZ is a trademark of Adnet Media.
Reproduction in whole or in part in any form or medium without express written permission is prohibited.