LoveBotz Ultra Bator Thrusting and Swirling Automatic Stroker
XR Brands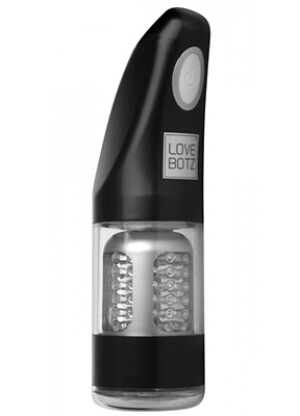 That future will be great but until the day when you can have sex with Androids comes to fruition I highly recommend going with the Ultra Bator from XR brands. With back and forth, swirlyness and all over motion that your dick meat experiences it is what I'd imagine a badass sex android would feel like. There's also the vibration, while not entirely like strapping the palm sander to my belt and turning it on high, it is a feeling that I would like to come standard on all badass sex androids in the future. Please take note science.
For more information, contact XR Brands:
Manufacturer Description:
The Ultra-Bator features 3 speeds of swirling rotation sensation, AND up and down stroking action, all in one. The inner chamber is texturized with sensation feelers, and 4 windows on the sides that let you see all the action. This state of the art automatic masturbation tool boasts an ergonomic hand held design, and a user friendly control pad, with a constant stroking motion and unique rotation feature that adds a whole new dimension to masturbation. To use, just lube it up and insert your rod. Then turn on the stroker, select your speed, and let Ultra Bator do all the work.

Copyright © 2023 Adnet Media. All Rights Reserved. XBIZ is a trademark of Adnet Media.
Reproduction in whole or in part in any form or medium without express written permission is prohibited.