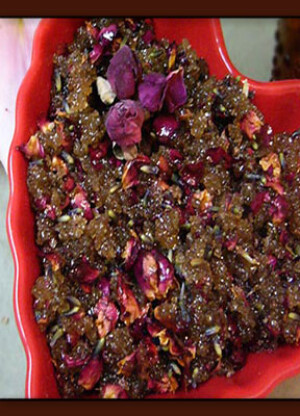 Upon opening the little jar of Sugar Scrub Bliss, my nose took a vacation to a spa. The scent was earthy, deep, romantic and sensual. I dipped my finger into the jar and the texture was a combination of leaves and sugar with a few other natural ingredients that I learned when I turned the tag over: organic olive oil, organic turbinado sugar, organic agave nectar, organic rose petals, lavender and lemon essential oil and completely vegan. When I applied it to my skin, it sang on it's own and I wanted enough to cover my entire body. Sugar Scrub Bliss is the perfect ingredient for sensual solo foreplay. It will entice all the senses, make your skin feel silky and smooth, and make you want to take yourself to the next level of pleasure.
Manufacturer Description:
This is sweet concoction to scrub away the stress and worries that settle on your hands and feet or any other part of your body that needs pampering. Perfect for men and women.
This is a VEGAN product. All products are made by scratch and to order for guaranteed freshness. We also do not test on animals; all testing is done on myself and willing friends.
Note: The lack of chemicals in this natural product will allow it to separate. Stir to mix before use.
Copyright © 2023 Adnet Media. All Rights Reserved. XBIZ is a trademark of Adnet Media.
Reproduction in whole or in part in any form or medium without express written permission is prohibited.