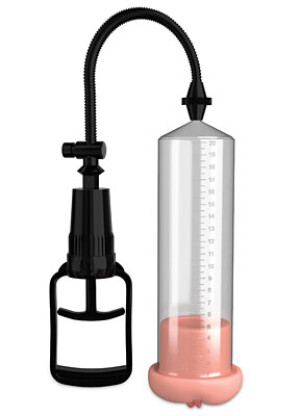 The Pumpworx Fanta Flesh Pussy Pump features a Fanta-Flesh pussy and combined it with a powerful performance pump. It comes with three awesome inserts: anal, vaginal and mouth for your pumping and masturbating pleasure. Plus with the handy hand pump, one-hand operation is a breeze.
For more information, contact Pipedream Products:
Manufacturer Description:
We've taken the soft, lifelike feel of a Fanta Flesh pussy and combined it with a powerful performance pump! After only a few uses, you'll discover thick, throbbing erections that last and last.
Slip through the super-soft pussy and into the vacuum cylinder tube. The pussy feels great and forms a perfectly tight seal against the skin to create a powerful vacuum inside the chamber, forcing your erection to quickly expand and swell with power as you squeeze the EZ-grip handle! This multi-function pump doubles as a suction-masturbator - when you've reached your desired size, simply push the quick-release valve to relieve the pressure, then enjoy fucking the lifelike pussy with your newly swollen pleasure rod.
The clear, vacuum cylinder allows you to see your cock get bigger and fatter with each pump. To prolong ejaculation, slide the included enhancement ring over your shaft until it's nice and snug. The tight squeeze will prolong ejaculation, help maintain your erection, and extend the fun.
- Ultra Lifelike Fanta-Flesh Pussy
- EZ-Grip Vacuum Handle
- Quick-Release Valve Instantly Relieves Pressure
- Warm, Soft & Super-Tight
- Instantly Add Length & Girth
- Improve Your Stamina & Performance
- Achieve Stronger, More Explosive Ejaculations
- Gain Confidence & Self-Esteem
- Free Cock Ring Included!
- Free Thickening Cream, Moist Lubricant & Toy Cleaner!
Tube Length: 7.5" (19 cm)
Tube Width: 2.25" (5.7 cm)
Copyright © 2023 Adnet Media. All Rights Reserved. XBIZ is a trademark of Adnet Media.
Reproduction in whole or in part in any form or medium without express written permission is prohibited.